Korean manufacturer LG Display came top in the global shipment of LED-backlit LCD TV panels on a unit basis for the fourth quarter of 2010, followed by Japanese firm Sharp corporation, according to data released by California-based market research and consulting firm DisplaySearch this week. Somewhat surprisingly, Samsung – whose brand is as good as synonymous with "LED TV" since the company's large-scale marketing campaign two years ago – only managed to secure third place, but the good news is the Seoul-headquartered conglomerate is joint-top (with Sharp) in revenue terms.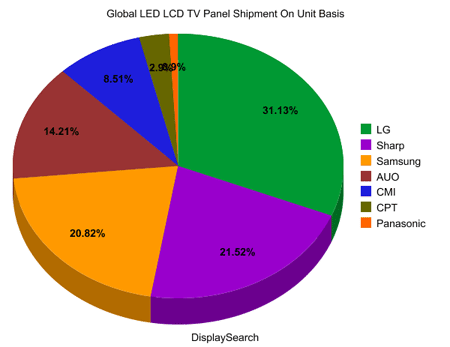 This information is found in the latest Quarterly Large-Area TFT LCD Shipment-Advanced LED Report published by DisplaySearch. As depicted in the pie chart above, LG captured 31.1% of the LED LCD television panel market in the final quarter of last year by shipping over five million units worldwide. Sharp claimed 21.5%, while Samsung had to settle for 20.8% of the market share. Taiwanese LCD makers AU Optronics (AUO) and Chimei Innolux (CMI) took 14.2% and 8.5% respectively.
Samsung fared better when it came to earned revenues for LED-based LCD TV panel shipments. The Korean HDTV manufacturer grabbed 27.3% of the share, tying Osaka-based rival Sharp for first place. LG Display came in third at 25.1%, in front of AUO which accounted for 13.9% of the LED LCD display revenue globally.
LCD TVs blessed with LED backlight technology sold extremely well in Q4'10, hitting a record high of 16.6 million units shipped worldwide over the period. Edge-lit LED TV sets were particularly popular among consumers, owing to their super-slim form factor and lower power consumption. Not surprisingly, almost every LCD TV panel manufacturer is putting more emphasis on the production of edge LED LCD HDTV panels – Sharp is probably the only major TV brand to remain firmly committed to releasing models with rear-mounted (also known as full array) LED backlighting.