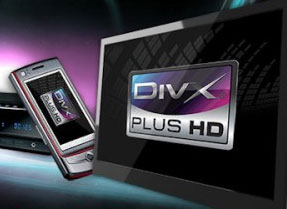 Korean manufacturer LG Electronics is to expand the implementation of DivX video compression codec on more of its devices by equipping them with Divx Plus HD certification, the highest one available which offers the widest range of DivX file compatibility. DivX has featured in a number of storage-based LG products so far, including Blu Ray players. The company has been integrating the technology into its Blu-Ray players for more than a year, but a range of other LG products and gadgets are set to benefit from the technology.
LG Electronics has now announced that it will be extending the use of this DivX playback compatibility to include a range of other devices such as HDTV displays, set-top boxes, tablets, smartphones, and even in-car entertainment systems. This comes after a multi-year licensing agreement with Rovi – the new owner of DivX intellectual properties following the acquisition of Sonic Solutions recently – was inked.
Apparently these LG hardware products already have, or soon will have, adequate processing power to play the highest quality DivX files. DivX Plus HD-certified devices not only allow the playback of DivX-encoded MKV files up to a maximum resolution of 1080p, but are also backwards-compatible with previous versions of DivX video.
Matt Milne, senior vice president of CE sales at Rovi, said that he believed that the firm's partnership with LG for this project was the perfect combination of "state-of-the-art devices with optimised, multi-screen video playback". This collaboration will ensure that consumers are able to enjoy an excellent choice of premium entertainment experiences with the use of a wide range of electronic devices from LG.
The multi-year licensing deal which has been signed between Rovi Corporation and LG signifies the extension of their commercial relationship that has seen a variety of LG electronic products feature DivX technology. Rovi said that it was looking forward to helping LG provide its customers with high-quality viewing experiences across a series of home entertainment devices.