In another innovative move, Korean manufacturer LG Electronics has launched the DM50D 3D-capable monitor which comes with a built-in digital TV tuner. The monitor/HDTV hybrid features the company's passive Cinema 3D technology, and will appeal to those who dislike the idea of having to wear active-shutter 3D glasses which can be relatively cumbersome. LG's Cinema 3D displays use polarized 3D glasses that are lighter, more comfortable to wear, and do not require synchronisation, charging nor batteries.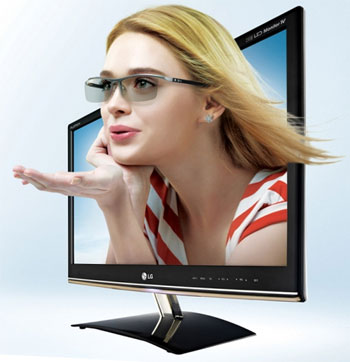 The LG DM50D offers high refresh rates, and as such has been certified as "Flicker Free" – an added bonus because it places less strain on the eyes of users looking to enjoy 3D gaming and viewing. Viewers will also purportedly benefit from reduced crosstalk artefacts when watching extra-dimensional content, which is important to keep eye fatigue to a minimum. For four-eyed folks a clip-on style is available, which can simply be attached onto standard prescription lenses. Si-hwan Park, vice president of the monitor division at LG's Home Entertainment Company, said that the company had carried out research which revealed that many people are not happy about wearing the more cumbersome 3D glasses, while some have concerns about their health when using these glasses.
The monitor itself features 2D-to-3D conversion capability, which will work automatically with games, and regardless of whether it is hooked up to a PC. LED backlight technology and HDMI connectivity will come as standard. Users will also be able to watch videos from a flash drive without the need to boot up the computer thanks to the USB Quick View feature of the DM50D.
The new offering from LG effectively provides consumers with a cross between a PC monitor and a personal 3D TV. Surprisingly, the Seoul-based corporation remains coy on the actual screen size, but judging from the model number it could be either 50 inches or 50 centimetres (20 inches), with the latter being more likely given that the 3-dimensional television/monitor is meant to "fit easily on a desktop". The LG DM50D is scheduled to hit the shelves in Europe from July before being rolled out on a global basis.