Few things get us more excited than CES, where we get our first look at the stunning visual brilliance of whatever awesome new television is on display, especially where Samsung and LG Electronics are concerned. And this year's been no different, with LG taking things to a whole new level by unveiling the world's first 77-inch flexible 4K OLED TV.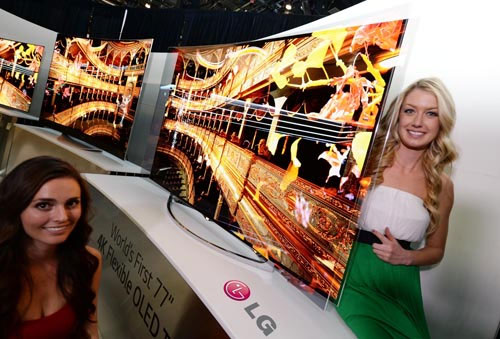 Yep, you read it right – LG's just shown off a flexible 4K OLED complete with controllable curvature, allowing the angle of the display to be altered with the TV remote to achieve the best possible view. If that sounds unbelievably cool, well, that's because it is – so cool in fact, that LG's President and CEO Hyun-Hwoi Ha said that the TV "defies description", even though company went ahead and described it anyway through a press release.
Cross-town arch-rival Samsung is also exhibiting its own flexible telly at CES 2014, but that one uses LED LCD technology. LG appears to have up the ante a notch by equipping its bendable TV with organic light-emitting diode (OLED) display technology which is pretty much viewed as the holy grail by video enthusiasts everywhere. LG says that its OLED screen can be controlled using the remote, with the range of curvature being adjusted taking into account viewing distance, screen size etc, in order to bend itself into the optimal viewing angle.
"What curved is to flat, flexible is to curved. LG continues to lead the evolution of televisions into the next generation," enthused Hyun-Hwoi Ha in a statement.
LG said that its 77in flexible 4K OLED television has been in the works for over a year, with the panel being subjected to "thousands of hours of tests" that have ensured its durability and reliability.
Nevertheless, just because LG's showing it off at CES, it's going to be some time before we get to see the 77-incher in our living rooms. The company didn't give a specific release data for its flexible 4K OLED, saying only that it'll arrive in the USA either this year or at the beginning of 2015. As for Europe and elsewhere, we'll just have to wait and see!