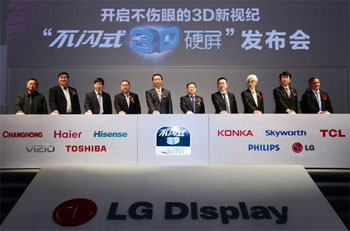 LG Display, the LCD-making arm of LG Electronics, has unveiled a new type of polarized 3D LCD TV technology at a launch event in Beijing, China this week. Dubbed "film-type patterned retarder" (FPR), this next-generation 3D LCD screen from LG will purportedly deliver 3D full HD resolution and ample brightness, while exhibiting virtually none of the issues which plague existing active shutter glasses 3D technology such as flicker and crosstalk.

How LG Display claimed to have achieved these technical improvements came down in part to the use of thin film instead of glass substrate within the 3D LCD panels, which also confers the not insignificant benefit of being less expensive to manufacture. And because the complementary polarized 3D glasses do not need power (either from battery or USB charge) to operate, they are generally cheaper, lighter and more comfortable to wear than their active-shutter counterparts.
At the launch conference, a number of expert speakers vouched for the superiority of FPR 3D technology over the existing active-shutter variant. A lab report from China's Research Institute of TV and Electro-Acoustics quoted a considerably lower "Flicker Index" of around 0.8 for FPR 3D LCD televisions versus above 600 for active 3D TV displays, while the Beijing Ophthalmology Research Institute presented the results of a comparison trial carried out among 38 adults, which showed that FPR induces less eye fatigue than active-shutter 3D technology.
LG's new 3D TV technology has received strong support from other TV makers and retailers. At the launch ceremony, the Korean conglomerate announced an agreement with Toshiba, Vizio, Philips and six Chinese LCD TV manufacturers (Haier, Konka, Skyworth, Changhong, Hisense and TCL) to jointly promote FPR 3D LCD technology. Gome Group and Suning, two of the largest electrical retailers in China, expect FPR technology to boost 3DTV sales by eradicating the synchronisation errors, occasional interruptions and 3D glasses battery discharges which have frequently marred in-store demos of the current batch of active 3D TVs placed in close proximity to one another.
Armed with such backing from the manufacturing and distribution chains, it's little wonder that LG Display's chief executive officer (CEO) Young-Soo Kwon boasted at the event that the company aims to attain 70% of the worldwide 3D LCD TV (including LED-based) market share next year, driven by the strengths of its cutting-edge Film Patterned Retarder technology. He also revealed that LG HDTV displays featuring FPR 3D LCD technology are already in production, and will hit the China market first, followed by the US in February 2011, and then the UK and Europe around April/ May next year.