LG says that it's about to deliver a "console quality" gaming experience to its Smart TV range, thanks to a new deal its just tied up with GameNow. Under the deal, LG plans to stream gameplay direct from the cloud to its customer's TVs, without them needing to install any additional hardware like the new £399 PlayStation 4, for example.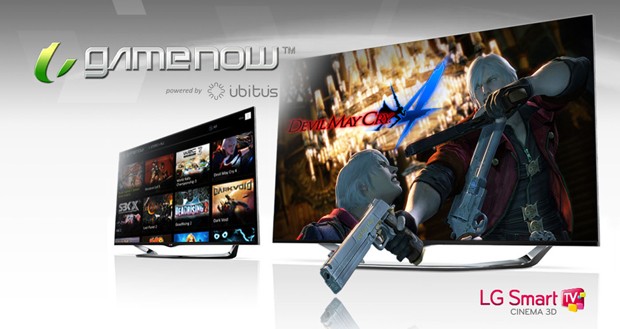 LG delivers GameNow cloud gaming experience to Smart TVs
In case you've never heard of the concept, cloud gaming refers to a set up where all of the heavy processing work usually done by consoles is instead performed by remote servers, before the on-screen action is rendered to your living room via a video stream.
GameNow already delivers a cloud gaming experience to Google TVs, plus a range of smartphones and tablet devices. LG says that the service will be compatible with its LA7900, LA8600 and LA9600 smart TVs in the US, though users will need to buy a special game controller to play anything. Currently, Logitech's Rumble-Pad2, F310, F510 and F710 are all supported by LG's TVs, together with the Rumble Power and Rumble Power 2 controllers.
LG claims that GameNow will transform your TV into a powerful games console, allowing consumers to play legendary titles like Resident Evil, Street Fighter X Tekken, Devil May Cry, Blade Kitten, Test Driver 2 Unlimited and many others. To begin with, GameNow will be available for free, though this is unlikely to last for long. LG describes the service as a "free beta trial" which means that it's likely going to introduce some kind of subscription fee before too long. No idea yet as to how much it might cost, but most probably there'll be a choice of different games packages that people can sign up for.
In order to be able to play games without any frustrating lag or interruptions, GameNow advises LG customers that they'll need an internet connection of at least 3Mbps – however, it also states that users will get "better results" with an 8Mbps connection.
For the moment, GameNow will only be available to LG customers in the US, though it's likely to roll out the service to international users in the coming months.
Source: Engadget