In recent years LG's tendency to reveal a little about its new product lineup ahead of the Consumer Electronics Show (CES) has become a bit of a habit, and this year seems to be no different with the Korean firm lifting the lid on two of its newest products that will be unveiled in Las Vegas next month.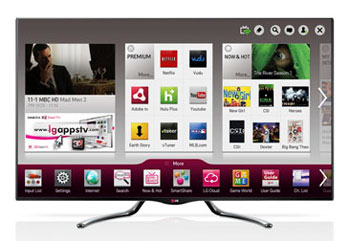 LG to intro new Google TV sets with Cinema 3D & OnLive gaming at CES
Whilst most other companies like to play their cards close to their chest ahead of CES 2013, LG is undoubtedly relying on the overwhelming superiority of its two new Google TV sets, the GA6400 and the GA7900, which are both set to be showcased at next month's event.
We haven't seen the TVs yet, but from the specifications announced by the company it looks like the two HDTVs are going to be well worth waiting for. LG says that the GA6400 and the GA7900 will both be made available in a variety of screen sizes, and will come packed with a range of features and functionality to rival that of anything it's released so far.
Among the features listed by LG, the Google TV-enabled displays will sport the company's iconic Magic Remote and LED-lit LCD panels, together with its proprietary Cinema 3D technology that works in concert with LG's passive 3D glasses, and the OnLive cloud gaming service pre-installed. In addition, each television will boast a powerful dual-core processor, ensuring one of the smoothest, fastest Smart TV experiences seen on an LG HDTV so far.
From an aesthetic point of view, the new TVs seem every bit as appealing, especially in the case of the premium GA7900 model with its almost non-existent bezel.
LG's CEO and President Havis Kwon said that the new Google TVs underline the brand's commitment to providing customers with the most diverse range of home entertainment options.
"Our new Google TVs promise a stellar viewing experience, merging LG's top-of-the-line Smart TV technology with the best that Google has to offer. For consumers, the result is the most comprehensive yet simple home entertainment system yet seen," added Kwon.
LG didn't mention anything about possible release dates, but as with most of their products it could well be several months before we see them hitting stores in the UK. We'll find out more at next month's CES.