LG Display revealed over the weekend that it has developed a 47-inch LED-backlit LCD TV panel that will set the pace as far as energy efficiency is concerned. Described by the Korean consumer electronics giant as having "the world's lowest power consumption rate among large LCD panels", the new LCD panel is purportedly more frugal than computer monitors above twenty inches in screen size.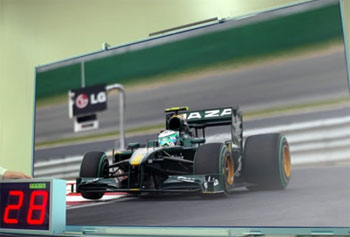 LG unveils world's greenest LCD TV
The power consumption breakthrough is achieved by a unique method of deploying LED bulbs vertically on only one side of the panel, therefore reducing the total number of LEDs needed to illuminate the LCD screen. To maintain a high level of brightness necessary for HDTV displays, LG employs a three-film structure for light focusing and diffusion, in conjunction with the vertical single-side LED backlight as well as local-dimming technology.
The Seoul-based LCD television panel manufacturer claimed that thanks to these innovations, its new 47″ LED LCD panel requires only 28 watts of electricity to operate, which compares favourably even to most 20-inch PC monitors that usually use between 30 to 50 watts of power. Despite its energy-saving prowess, the LED-backlit LCD panel is said to be capable of delivering 400 nits (cd/m2) of luminance, a native screen resolution of full HD 1080p, and of course a super-slim design.
Speaking about the new LED-LCD technology, LG Display's vice president of LED Development Department Shin-Ho Kang said that it is a sign of the firm's commitment to improve energy efficiency by developing greener products. He added that LG will continue to pour resources into exploring other power-saving technologies that can benefit both the public and the environment.