Being the leading manufacturer of large-screen OLED displays, LG was expected to put on a spectacular show at the IFA 2016 consumer electronics trade show in Berlin, and the company didn't disappoint. Using 216 separate 55-inch curved OLED signage panels, the South Korean brand created the world's largest OLED tunnel at IFA, measuring 15m x 7.4m x 5m in length, width and height respectively.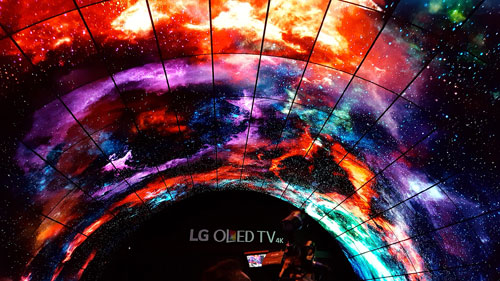 We were invited to walk through the OLED tunnel on the day LG opened its IFA showhall to the media, and it was truly an awe-inspiring experience. The OLED displays rendered the footages of Iceland's Northern Lights, deep space and underwater ocean with a sense of realism so breathtaking it's almost lifelike, thanks to the display technology's self-emissive properties that allow for true blacks, vibrant colours and wide viewing angles.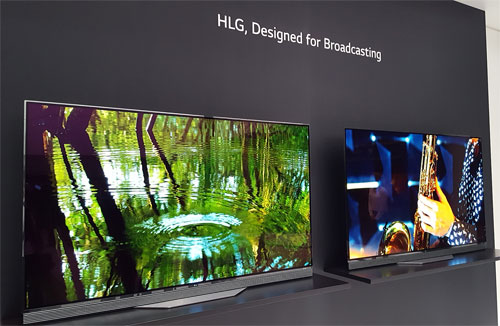 The Korean giant also took the opportunity at IFA to demonstrate HLG (Hybrid Log Gamma) HDR content encoded by the BBC and transmitted directly from ASTRA's satellite network to its OLED TVs. We were pleasantly surprised to see a pair of production LG E6 used for this demonstration: an LG spokesperson told HDTVTest that the displays were running a beta firmware providing HLG compatibility. When asked, the company refused to confirm if a software update will be rolled out to its 2016 OLEDs to enable HLG decoding, merely stating "it's under consideration".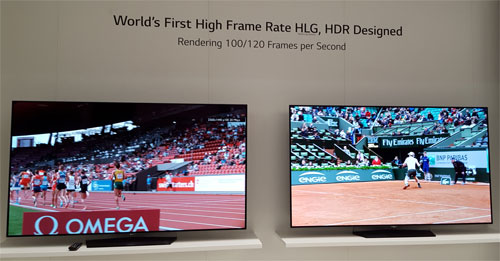 But perhaps the most interesting unveil at LG's IFA booth was two OLED prototypes showing HFR (high frame rate) with HLG HDR video clips (100Hz, 10-bit, WCG) from the BBC and the EBU (European Broadcasting Union) over IP streaming and DVB-T2 transmission systems. The benefits of high-res HFR for sports broadcast were indisputable: motion clarity was natively superb without incurring interpolation artefacts as athletes ran across the tracks.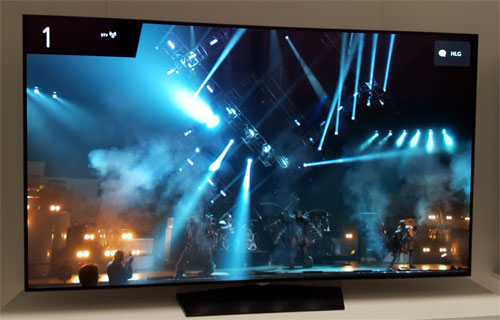 Our excitement reached fever pitch when pressing the [Channel Up] button on the remote changed the DTV channel and caused a "HLG" notification to pop up on the top right of the screen… we're only geeks!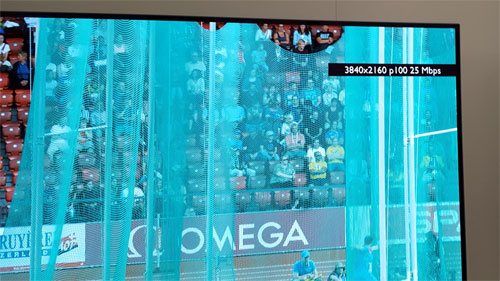 Judging from the info label, HEVC encoding of high frame rate content appeared to be incredibly efficient bandwidth-wise, with 576p100, 1080p100, 1440p100 and 2160p100 videos consuming only 5Mbps, 15Mbps, 20Mbps and 25Mbps respectively. LG said it will be focusing its HFR R&D on OLED display technology rather than LED LCD due to the former's near-instantaneous pixel response time.