LG Electronics has made quite a few interesting announcements over the Christmas period, but its most recent news had us literally shaking with excitement – the South Korean manufacturer has just released details of a new 100-inch "Hecto" Laser TV!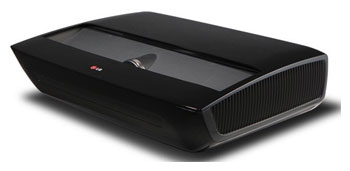 LG to debut "Hecto" 100-inch laser TV, nay, projector at CES
Actually, the new device isn't an HDTV at all, but rather an awesome little projector that combines a specially designed screen with its latest Ultra Short Throw projection technology to deliver truly enormous images in full HD 1080p resolution from as close as just 22 inches away.
The crucial thing about the Hecto projector seems to be its flexibility. LG says that the device relies on its "advanced laser-based illumination system", and can be fitted onto the ceiling, placed on the floor or even secured to a wall – wherever there's space available. The 22-inch minimum distance meanwhile, is far less than regular projectors, which often need to be place several meters from the screen in order for the image to fit the display. Regardless of where the projector is placed, it should deliver a pretty nifty picture.
Features include a 1,000,000:1 dynamic contrast ratio, two 10-watt speakers built into the device, and a digital tuner, while connectivity options include three HDMI inputs, an RS-232 interface and an optical audio input that allows it to connect to just about any Blu-ray player, DVD player or console.
Another great little perk about the Hecto is its WiFi and WiDi capability. This means that users will be able to use the device in much the same way as an LG Smart TV, tapping into its main interface and streaming content from services like YouTube and Netflix, among others. Users will also have access to the Smart World app store, the LG Cloud, and content from external USBs.
Finally, the entire set up can be controlled using LG's intuitive Magic Remote, which includes gesture, voice, wheel and point-based controls.
LG's CEO Havis Kwon said that the Hecto is perfectly suited for any room, be it the living room, bedroom or a company boardroom.
LG plans to demonstrate the Hecto Projector for the first time at next month's CES, when we can expect the company to announce a launch date.