We've just got back from checking out LG's new 2013 high-definition and ultra HD display lineup at the company's impressive CES booth, and we're delighted to report that, after an agonising wait, realistically sized OLED TVs will finally hit British store shelves this year.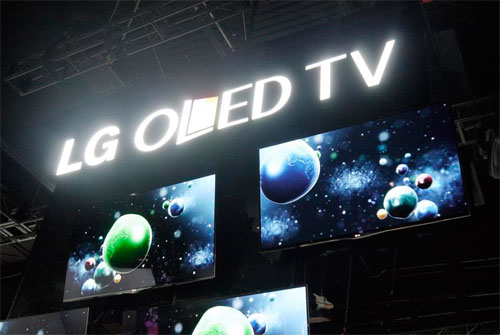 LG leads OLED TV charge at CES 2013 with three 55-inch models
In fact, OLED TV is LG's number one priority for 2013. To say that this is a relief is an understatement: OLED has been the promised "new technology" for many, many years now, but home cinema enthusiasts have been kept hanging. In the words of George Mead, head of consumer marketing at LG UK's home entertainment division, LG OLED televisions this year are "like London buses" – the South Korean TV manufacturer has no less than THREE 55-inch OLED TV models planned for this year, after basically drawing a blank in 2012.
The first OLED television to hit the UK will be the LG 55EM970V that we've previously covered at IFA Berlin last year, with a scheduled release date some time during the first quarter of 2013, and a ballpark price figure of around £10,000.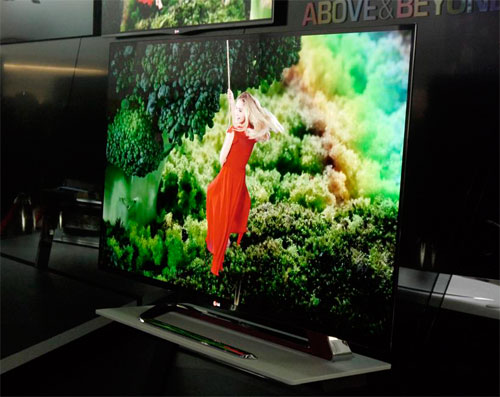 LG's second-generation OLED TV, another 55-incher with a distinctive "flamingo stand" design, will launch in Q4'13. Its model number is 55EA8800.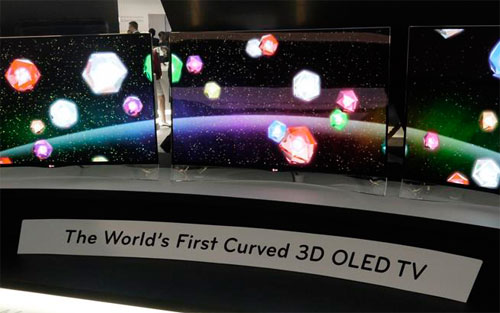 Not only that, but the company is also launching a curved OLED TV: the 55″ (again) EA9800. That's right, this is a real product (the designated flagship no less), not just a show-floor demo. The entire screen curves inwards – like some specialist home cinema projection screens – to give a more enveloping feel to the viewing experience. Pricing and availability for the United Kingdom are to be confirmed.
Ultra HD 4K LED TV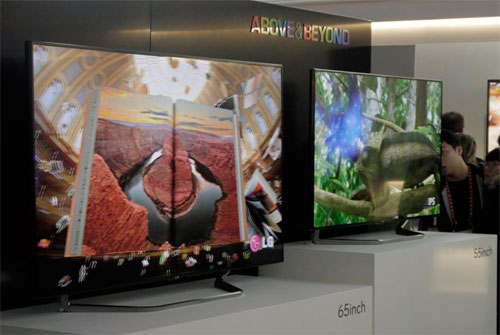 LG is showing Ultra High-Definition some love too, with 4K LED LCD TVs on the way. The LA9700 series will be appearing in new 55″ and 65″ screen sizes, to complement the recently released 84-inch LG 84LM960V. We can expect to see these in the UK around June/July.
There are also small refinements to the firm's existing "Cinema Screen" range of full HD LED-lit LCD televisions, with the LA660T, LA690T, LA740T, LA860V, and LA960V series all on exhibit.
LG Laser TV Projector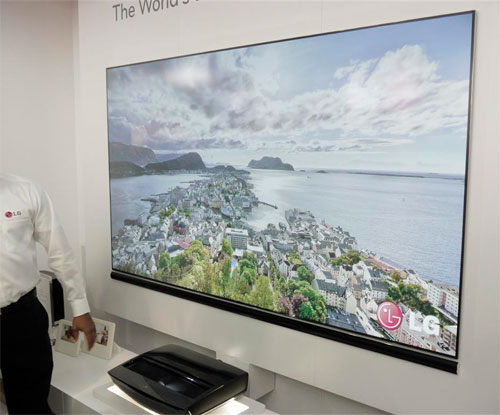 Lastly, there's the "Hecto 100-inch Laser TV", which is actually not so much a television, but more of a projector – with an ultra-short throw lens. The projector itself is based on DLP-like technology, and can throw a 100″ image onto the supplied high-gain screen – which is designed to look like a television – from an insanely short 22-inch distance. Not only that, but the picture still remains bright – it was easily discernible (albeit not optimal) under the bright CES showfloor lighting. Using projection technology, but in a TV-esque product (with a tuner, and full Smart TV features) is good thinking from LG. Dare we say it, but it's… smart. The LG Hecto is due to be launched in the USA and South Korea in March, with a phased global rollout planned depending on consumer response.
Needless to say, this year is shaping up to be a huge one not only for LG Electronics, but also display technologies in general. We're sure that CES 2013 is going to go down in history as the watershed event where LG broke the endless OLED TV delays, and took this ultimate display technology out of "vaporware" territory.