LG Electronics has been super aggressive in its mission to dominate the next-generation TV world, and it's just upped the ante with the launch of its 2014 TV lineup in its home nation of Korea – unveiling no less than 68 brand new models.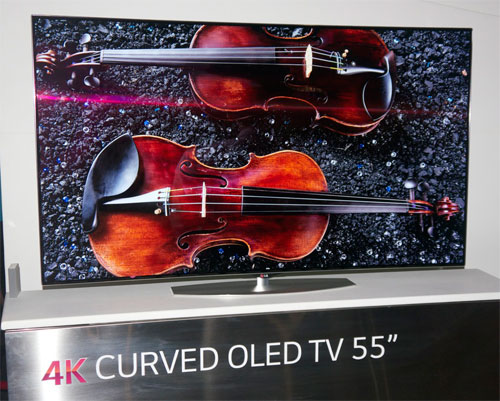 Having been the first company to bring an 84-inch 4K TV to market, LG has just chalked up another feat, becoming the first to offer a 105-inch curved 4K ultra high-definition (UHD) television. In addition to this, the South Korean manufacturer is also launching new 49-inch, 55-inch and 65-inch curved 4K Ultra HD TVs to compete across a range of price points.
According to the company, its lineup for 2014 is the largest range it's ever introduced. Most of the new models will run its proprietary webOS Smart TV software, which it acquired from HP in March of last year. The software has since been modified and repackaged as LG's newest Smart TV platform, which was shown off for the first time at the CES show in Las Vegas back in January. The company said that the new software will be featured in around 70 percent of its new TVs this year. One of the main characteristics of webOS is its ease-of-use, designed to make searching for content as intuitive as possible whilst enabling simpler connectivity to devices like smartphones and tablets.
Aside from this, LG is also bigging up its new Cinema 3D TVs, which come with the promise of an enhanced 3D viewing experience with support for 4K resolution. In addition, each of its 3D TVs will come with the ability to convert 2D content into 3D at the flick of a button.
The South Korean conglomerate is the only one among major television brands to be serious about OLED TV this year, offering a comprehensive fleet of both full HD and 4K Ultra HD versions in 55in, 65in and 77in screen sizes. Certain models feature additional benefits like eGallery – essentially 150 art gallery themes – that will show off OLED's lush and realistic colours.
LG has also introduced new Ultra Surround audio technology developed in partnership with Harman Kardon, which it says will deliver the highest quality sound possible. Finally, the company seems to be making a real effort to deliver native 4K content to its customers, teaming up with Netflix and Fox, plus a number of satellite and cable TV companies to work on creating more UHD content.
Hyun-hwoi Ha, president and CEO of the LG Electronics Home Entertainment Company, said:
"With our strong competitiveness in display technology including ULTRA IPS, CINEMA 3D and the unrivalled simplicity of the webOS Smart TV platform, we are optimistic that in 2014, LG will be the one to watch in the TV industry."
The company is yet to announce pricing or specification details for its new models, nor do we know when we might expect to see these TVs land on these shores. We'll be sure to let you know as soon as we do.
Source: LG Newsroom