In a move that looks like it's been timed to upstage its great cross-town rival Samsung, LG Electronics has also announced the availability of the "first" curved OLED TV in the United States, making it available for preorder this week with a cool $14,999 (around £9,750) price tag. According to the company's statement, the 55-inch 55EA9800 is set to ship out to American customers within the "next couple of weeks".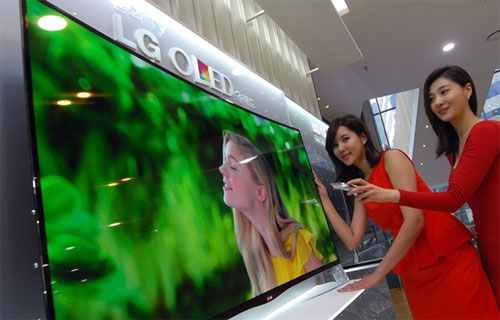 LG's curved OLED television will initially only be available at Best Buy's Magnolia stores in Chicago, Dallas, Houston, Los Angeles, Miami, New York, San Antonio and San Francisco, with other US cities set to follow later this summer.
Obviously the big talking point is LG's claim to be "first", ahead of arch rivals Samsung which announced the availability of its own curved OLED design this week too. Samsung's 55in KN55S9 is being offered by New York-based retailer Value Electronics, for the exact same price of $14,999, but like LG it hasn't given a firm date for when the HDTV is expected to ship, although that could be as early as this week.
Not that it really matters other than for stupid bragging rights of course. Both TVs are arriving stateside soon, and given the enormous price tag we're unlikely to see them flying off the shelves just yet. Like Samsung's own curved OLED, the LG 55EA9800 sports a beautiful, elegant design at just 4.3mm thick. It also promises equally beautiful image quality, built with LG's WRGB technology and its unique subpixel structure which incorporates an additional white pixel that's claimed to improve sharpness and longevity.
In addition to that, LG's model has definitely secured the bragging rights in one area – its 55EA9800 became the first OLED TV to achieve THX Display certification earlier this week, passing more than 600 tests in THX's labs to ensure optimum professional post-production display quality.
"We're very excited about OLED's potential, and so it's our pleasure to introduce consumers to the technology through LG's THX Certified OLED TV," said THX Senior Video Engineer Eric Gemmer. "We've set a very high bar for OLED picture quality through our collaboration with LG."
Unfortunately there's no news yet on a price tag or release date for LG's curved OLED in the UK, with the company only saying that it will ship to other markets "at a later date."