With the Consumer Electronics Show (CES) 2012 set to take place in Las Vegas very soon, many manufacturing and technology giants are getting geared up to showcase their up and coming offerings in the world of electronics and gadgets. One of those manufacturers is LG Electronics, who has officially announced this week that it will unveil the world's largest OLED TV with a screen size of 55 inches at the event.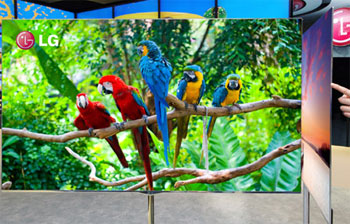 LG to showcase world's largest 55″ OLED TV at CES 2012
According to LG, the 55″ OLED TV will produce the most natural colours of any television set. However, the Korean firm has managed to do this at a much lower price than normal by avoiding the standard manufacturing process, and instead combining the company's 4-Color Pixels and Colour Refiner features with the advanced OLED panels from LG Display.
LG Electronics Home Entertainment Company's president and CEO Havis Kwon said that this is an innovative product that offers all of the benefits of OLED compared to LCD, but at a vastly reduced cost than the company could have achieved using existing technologies. He described OLED as "the future of home entertainment", and said that LG wants to ensure that this technology is easily accessible by consumers.
The technology that is implemented on the 55-inch LG OLED television results in the 4-Color Pixels and Colour Refiner working effectively in tandem to bring viewers pictures that are natural yet sharp and of very high quality. The TV maker said that more accurate colour depiction is achieved by using four colours – red, white, blue and green – rather than the RGB system that is used by other manufacturers of OLED TVs.
In addition to offer super quality and a low price, the LG OLED HDTV is also set to impress in terms of their design, with LG's Slim and Narrow Bezel design ensuring that the display remain sleek, contemporary and stylish in appearance.