LG Electronics believes that it's well-positioned to finally overhaul arch-rival Samsung with its flat-screen OLED TV technology, and become the world's biggest player in next-generation HDTV displays. The South Korean firm, which is the second-largest manufacturer of high-end TVs after Samsung, claims that its advances with organic light-emitting diode (OLED) technology will give them a cutting edge that its rivals won't be able to match for at least two years.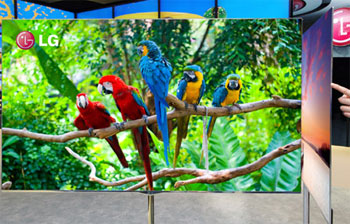 LG believes it can win OLED TV race against Samsung
The reason for LG's new-found confidence? Its brand new, 55-inch 55EM960V OLED TV, which is barely half-an-inch thick, was named the best product out of all gadgets unveiled by the world's leading electronics firms at the Consumer Electronic Show (CES) in Las Vegas earlier this year. OLED display technology is expected to drive the premium television industry for the foreseeable future, yet with LG's showpiece product costing around £7,000, doubts had been raised about whether the company can really give cross-town rival Samsung a run for its money.
Speaking to Agence France Presse (AFP) earlier this week however, LG's Vice President for TV Division Seog-Ho Ro insisted that the company has a very good chance of "winning the game". By this, he meant that LG has every chance of overtaking Samsung as the leader in global television sales. The Seoul-headquartered conglomerate is confident it can secure the lion's share of the OLED TV market, stating that it expects to sell over two million units in the next four years.
Quite simply, LG believes that its OLED technology is streets ahead of the competition, including Japanese firms Panasonic and Sony, delivering better defined images on a brighter screen, whilst also consuming less power than its rivals' offerings. In addition, no one has yet been able to match the sexy form factor of ultra-slim LG flat-panel televisions.
Another crucial advance made by LG is its breakthrough in producing greater numbers of OLED TVs at a lower cost than its competitors. According to Ro, LG's unique "white OLED" technology is at least two years ahead of other TV brands, offering clearer image rendering while being inherently suitable for mass production.
"We'll be able to increase panel yield rate much faster than anyone else, and eventually we'll be able to reduce our prices and make our products more affordable than the competition," he explained.
The vice president added that by the time rival television makers catch up with LG's OLED technology, the Korean firm will have already achieved its end goal of establishing a formidable margin in sales of premium HDTV products. This is a product line that includes Smart TVs which can access the internet directly, serving as a platform for a variety of interactive functions, and also the new generation of glasses-free 3D TVs.
Focusing on the premium television market segment makes perfect sense for LG, which has struggled to make any ground in mainstream LCD and LED TV markets. These markets have long been the turf of established brands such as Samsung and Sony, while low-cost Chinese brands are also beginning to make headway in this arena.