In a game-changing move, LG Electronics has partnered with Portrait Displays – developer of the industry-leading CalMAN calibration software – to offer 3D LUT auto-calibration functionality on the South Korean company's 2018 lineup of OLED and Super UHD TVs unveiled at CES this week in Las Vegas.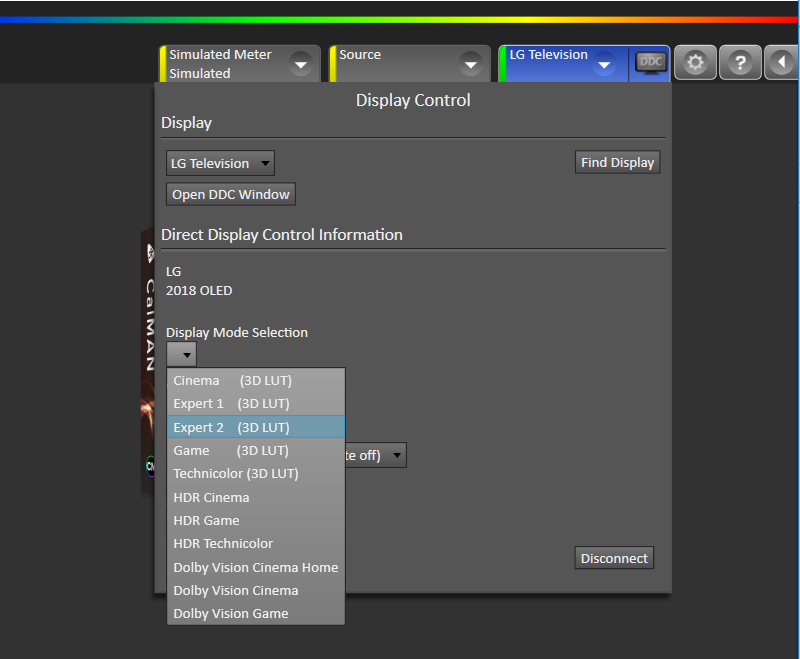 Auto-calibration is not new in the world of consumer TVs. Notably, Panasonic started providing it on their now-defunct plasmas, and Samsung joined the fray last year… both in conjunction with SpectraCal (who has since been acquired by Portrait Displays). But by directly accessing the underlying 3D LUT (look-up table), LG has truly taken it to the next level.
Let us explain why this is so revolutionary. If you've been a reader on this site for some amount of time, you'll know that we are strong advocates of display calibration to finetune the colours so that they come as close as possible to what the directors and colourists are seeing on their reference broadcast monitors. As far as the complexity of calibration controls on domestic televisions is concerned, it started off with two-point white balance (on top of the usual contrast, brightness, colour, tint and sharpness settings), then ten-point or twenty-point, and topped off by advanced colour management system (CMS) that lets professional calibrators adjust the hue, saturation and luminance of the three primary colours of red, green and blue, as well as the three secondary colours of cyan, magenta and yellow. With each progressive step, the display gets closer to reproducing the exact same colours on professional broadcast monitors.
This collaboration between LG Electronics and Portrait Displays bypasses all these steps by allowing the software to talk directly to the underlying tables and make a mind-boggling number of adjustments via a feedback loop. For the uninitiated, 3D LUT or look-up table is the gold standard for video accuracy within the film and broadcast industry: post-production houses deploy 3D LUT either through an external 3D LUT box or internally on compatible broadcast monitors to achieve reference-level colours on their grading monitors.
And LG's 2018 high-end OLEDs (such as the Wallpaper W8, "Picture-on-Glass" E8, as well as "Blade-Slim" C8 and B8) and LED LCDs are the first consumer TVs to feature an internal 3D LUT that can be calibrated through Portrait Displays' flagship CalMAN software, allowing them to match the video fidelity previously only available to professional reference monitors. Once calibrated, these TVs will let owners see luminance and colours exactly as intended by the director, enabling faithful experience of the creative vision.
Delving into the specifics of the LGE-Portrait auto-calibration process, connection can be established between the LG TV and the CalMAN software via Ethernet or Wifi. Eleven memory banks can be calibrated: five for SDR (Cinema, Expert 1, Expert 2, Game and Technicolor); three for HDR (HDR Cinema, HDR Game and HDR Technicolor); and three for Dolby Vision (DV Cinema Home, DV Cinema and DV Game). The SDR calibration uses 1D LUT and 33x33x33 3D LUT calibration (giving 30,000+ adjustment points); HDR uses 1D LUT for greyscale and 3×3 matrix for gamut calibration; while Dolby Vision calibration uses 1D LUT and the config file procedure as per 2017 sets.
The auto-calibration solution under development by Portrait Displays for LG Electronics is scheduled to be ready at the same time the latter's 2018 OLED and Super UHD TVs ship. Both parties are demonstrating a pre-release version at CES in Las Vegas, and we will be there to be briefed.