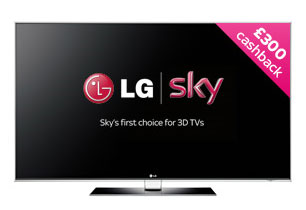 Having been endorsed by Sky as the satellite TV broadcaster's number one choice when it comes to 3D TV displays, LG Electronics are now offering a cashback of £300 on selected 3DTV models exclusively for Sky subscribers. The promotion will run until Christmas Eve (the 24th of December) this year.

Back in September, LG announced at the IFA 2010 trade show in Berlin that the company had officially been appointed as the approved partner for the Sky 3D channel that was subsequently launched on the 1st of October. Under the partnership, Sky would recommend LG 3D TVs (instead of competing offerings from other TV makers such as Panasonic, Samsung and Sony) to its customers for use with the Sky 3D channel. There had been plans to reward existing Sky subscribers with discounts on new LG 3D TV purchases, but it's not until now that the entire rebate scheme becomes clear.
Three LG 3D TV sets are included in the £300 cashback offer: the LG 47LD950 passive 3D LCD TV, and the LG 47LX9900 and 55LX9900 LED-backlit active 3D TVs. To qualify for the rebate, Sky customers need to buy one of these 3DTV displays from a participating retailer – such as Amazon, Comet, Currys, Dixons, PC World, John Lewis, Richer Sounds and Tesco, plus a number of regional independents – before Christmas Day.
The 3D TV purchase receipt will need to be sent in along with a completed claim form (downloadable from the Sky Rewards member area) and a TV barcode cutout no later than the 21st of January 2011 for the claim to be valid. After verifying and processing the claim, a cheque to the amount of £300 will be sent out by LG's claim handling centre within 30 days.
Since the 19th of November, LG has embarked on a nationwide 3D TV tour by setting up interactive demonstration booths dressed up as living rooms in shopping centres and cinemas around the UK. Sky's new 3D channel will continue to be showcased alongside the TV maker's own 3D wares.