LG Electronics has started running a promotion which offers a rebate of up to £400 on its 2011 range of "Cinema 3D" televisions exclusively for Sky TV customers. The Korean HDTV manufacturer ran a similar offer during the run-up to Christmas last year, though the maximum cashback amount that could be claimed then was slightly less (£300).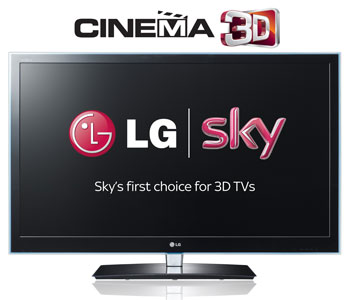 This cashback offer is the latest in a series of high-profile collaborations between LG and British Sky Broadcasting as far as 3D is concerned. LG screens have been installed in pubs up and down the country to broadcast Sky 3D sporting events; Sky has appointed LG as its official partner – the satellite television broadcaster will recommend to customers 3D TVs made by the Seoul-based corporation for use with its Sky 3D channel; both companies have joined forces on nationwide roadshows to boost the public's awareness of 3D technology; and from time to time new and existing Sky TV subscribers will be given exclusive discounts on selected LG 3D-capable TVs.
In line with LG's marketing push for its proprietary FPR (film-type patterned retarder) passive 3D LED-backlit LCD panels, all the 3DTV sets included in this most recent cashback promotion are "Cinema 3D" – an ingeniously thought up moniker to explain passive 3D technology to the average Joe (think cheap, polarized 3D glasses like the ones handed out at 3D cinemas) – models. A £100 rebate is available on the 42-inch sets (42LW450U, 42LW550T and 42LW650T); £200 on the 47 inchers (47LW450U, 47LW550T and 47LW650T); and £400 on the 55″ displays (55LW450U, 55LW550T and 55LW650T).
To be eligible for the cashback, the LG Cinema 3D television has to be purchased from one of the participating retailers (such as Currys, Comet, Dixons, PC World, Amazon, Tesco, John Lewis and Richer Sounds, as well as a host of independent dealers in various UK regions) between the 7th of April and the 7th of June inclusive this year. A downloadable claim form will need to be filled in, and submitted alongside an original receipt and a barcode cut-out (from the TV's packaging) by the 7th of July 2011 to receive the cashback.