LG Electronics, the second largest TV manufacturer in the world, is set to launch an entirely new range of HDTV displays featuring its Smart TV technology at the Consumer Electronics Show (CES) 2011 which kicks off in Las Vegas this week. Several LG Smart TV products scheduled to make an appearance at the company's booth during the consumer technology exhibition include the LG LW9500 and LW7700 series of 3D LED LCD TVs, the LG LW6500 series of passive 3D TVs equipped with "Cinema 3D" film-type patterned retarder (FPR) LCD panels, and the LG PZ950 and PZ750 series of 3D plasma televisions.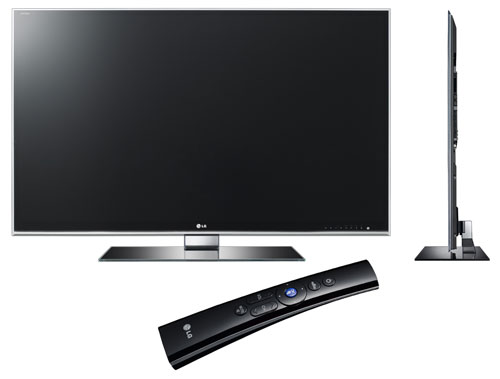 LG first demonstrated its Smart TV technology at the IFA 2010 consumer electronics trade show in Berlin last year. Essentially an attempt to simplify the way users access content – be it live TV broadcast or internet-connected web apps – on their HDTV sets, LG's Smart TV platform largely consists of two innovative components: the Home Dashboard graphical user interface (GUI), and the Wiimote-styled Magic Motion Remote Control.
Divided into the four main sections of Live TV, Premium Content and TV Apps plus a Launcher Bar at the bottom of the screen, the Home Dashboard user menu on LG Smart TVs is designed to be clean and minimalistic, ensuring that viewers are never a few clicks away from the abundant selection of content available on their HDTVs.
And instead of cramming more keys onto its remote control, LG has created one with stripped-down functionality, which sports only a few crucial buttons. To select an item, users simply need to wave the motion-sensitive Magic Motion remote to point the cursor on screen, and then click on the desired option.
Viewers can also stream media files from their PCs, laptops and other compatible gadgets wirelessly to be watched on the LG Smart TVs via the built-in "Smart Share" function (which is capable of fetching additional information such as cover art and liner notes for the streamed content). LG Smart TV sets boast a full-fledged, integrated internet browser as well, allowing users to surf the web directly on the flat-screen televisions as long as they are hooked up to broadband internet connection.
More details on regional pricing and availability will be known after LG's press conference at CES 2011, but a global roll-out is expected to take place in the first quarter of this year.