In a statement of intent, LG Electronics has this week unveiled its first-ever Superbowl commercial to promote the company's new SIGNATURE G6 series of OLED TVs. Starring veteran actor Liam Neeson and produced by the father-son team of Ridley and Jake Scott, the ad underlines LG's unwavering commitment to the revolutionary next-gen display technology.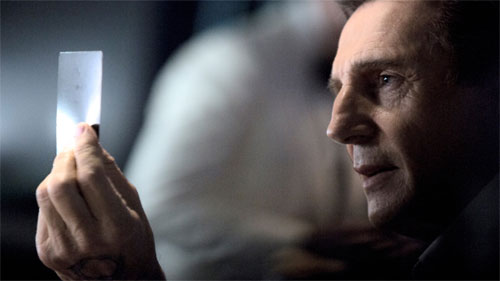 The commercial features LG's flagship OLED model for 2016, namely the G6 range comprising the 65-inch OLED65G6 and 77-inch OLED77G6. In the advertisement, Liam Neeson is "the man from the future" entrusted with the task of bringing the future of television to the world to be enjoyed by today's consumers, an apt analogy to how LG has almost single-handedly developed and pushed large-screen OLED displays from relative obscurity into a formidable TV category.
Thanks to its self-illuminating characteristics, OLED TV is capable of delivering absolute blacks at per-pixel level, laying the foundation not only for unrivalled contrast performance, but also for colours to flourish with hitherto unseen vibrancy. Furthermore, the technology's lack of need for a backlight plane lends itself to some truly stunning aesthetics: the LG G6 is blessed with impossibly slim depth (measuring approximately 1/10th of an inch) as well as a translucent glass back, a design dubbed "Picture-on-Glass" by the South Korean manufacturer.
As announced at CES, the LG 65G6 and 77G6 OLED TVs will feature a native 4K UHD (ultra high-definition) resolution of 3840×2160, not to mention HDR (high dynamic range) support for both HDR-10 and Dolby Vision standards, making them among the first 4K televisions to be compatible with both formats. By meeting specific criteria relating to peak brightness and colour gamut, the OLED65G6V and OLED77G6V has also been certified as UHD Premium by the UHD Alliance. Adding to the impressive list of specifications is a fresh webOS 3.0 smart TV platform that makes finding and switching between LG's expanded content options — including broadcast telly, streaming services and external media – quick and simple.
We recently declared LG's OLED televisions to be the winner at last month's Consumer Electronics Show (CES) 2016 in Las Vegas, and it's reassuring to see the Korean firm not letting up on its dominance as far as OLED TV is concerned. Due to be screened at the big game, LG's Super Bowl commercial will surely thrust the fledging display technology into prominence and build public awareness. While we eagerly await the arrival of 2016 LG OLEDs, let's feast our eyes on the advert: