We haven't seen much in the way of flexible displays since those gimmicky smartphones developed by South Korean consumer electronics giants LG and Samsung first appeared, but that could be about to change.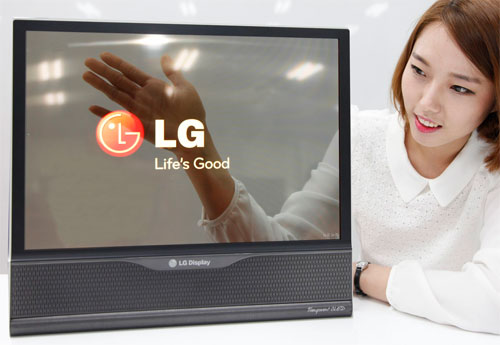 LG Display is thinking bigger and better, having just announced that it's come up with a new 18-inch OLED panel that's so flexible the company describes it as "rollable", as well as a new 18in transparent OLED panel.
The company reckons that these new display technologies will form the basis of newer devices that can offer flexible and transparent displays with the best possible image quality.
The flexible OLED panel sounds pretty intriguing. LG says it comes with a HD resolution of 1200×810, packing almost one million megapixels. With a curvature radius of 30R, it's possible to 'roll' the panel up into a kind of tube with a radius of just 3cm, all without breaking the actual display or its function in any way. LG's been able to achieve this by using a high molecular substance-based polyimide film stuck onto the back of its flexible panels, rather than the conventional plastic that's used in today's panels. The use of polyimide film helps to keep the panels as thin as possible, therefore improving their flexibility.
According to LG, this means it'll soon be able to start building 'rollable TVs' with 50-inch plus displays, with the first of these products hopefully arriving by 2017. The idea sounds interesting, but whether or not such devices will have any practical use remains to be seen – maybe we can go camping and stuff our rollable OLED televisions into our backpack?
A bit less exciting is LG's second innovation of the day, which refers to a transparent OLED panel that has three times the transmittance of current LCD displays. The company says this should cut out some of the 'haze' generated by circuit devices and film components, resulting in a better picture quality.
"By 2017, we will successfully develop an Ultra HD flexible and transparent OLED panel of more than 60 inches," claimed In-Byung Kang, Senior Vice President and Head of the R&D Center at LG Display.
LG is the undisputed leader in the fledging OLED TV market, being the only manufacturer at this point in time to launch such products in 2014. Last month, the Seoul-based conglomerate unveiled its 65in and 77in curved 4K OLED TVs in the UK, priced at £6,000 and £20,000 respectively.