If you're an avid videophile waiting for the day when it's practical to own your own OLED TV, you've probably been left disappointed by the manufacturer offerings at CES 2014. The theme this year is not high quality self-emissive displays; instead, "curved" LED LCDs with UHD (ultra high-definition) resolution is the trend, with Samsung, LG, TCL, Haier, and others exhibiting these curly liquid crystal screens.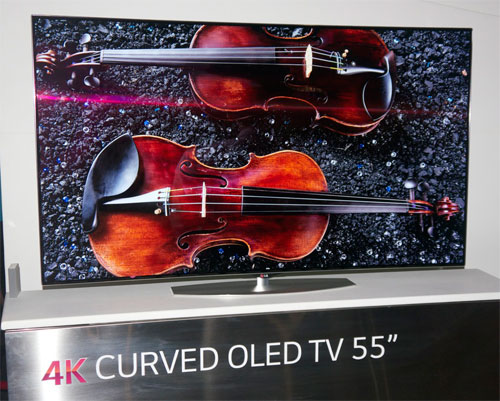 It's enough to try any video lover's patience. OLED is at risk of becoming vapourware, and we're beginning to wish that companies would stop teasing us with prototype displays which never even become available to buy. To their credit, Sony didn't show any OLED at their gigantic exhibit at all, whereas Panasonic showed a curved OLED video wall for business use. Even that company's impressive locally-dimmed LED LCD TV served as a reminder that real self-emissive OLED televisions aren't appearing from the company this year.
With that in mind, you'll be able to appreciate why we were so impressed with LG's offering. The South Korean consumer electronics giant is the only major manufacturer at the show to put its money where its mouth is, showing off 4 new OLED TVs which visitors will actually be able to buy this year. That's right – actual OLED TV models, not prototypes.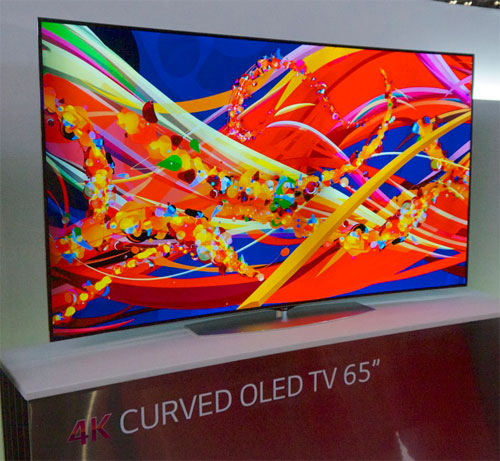 Three models make up the main EC9800 series of curved OLED TVs featuring 4K Ultra HD resolution, which (in the USA at least) is coming in 55″ (the LG 55EC9800), 65″ (65EC9800) and 77″ (77EC9800) sizes. There is also a flat "Gallery" model, the LG 55EA8800 whose resolution is (in our opinion, wholly adequate) 1080p.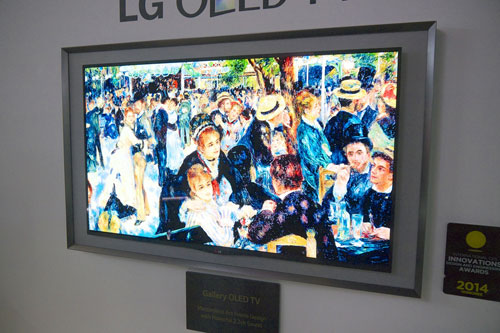 The company – just like Samsung – also showed off a flexible OLED screen that can sit in either a curved or flat configuration. Like Samsung's, this was a prototype. Rounding out the lineup was the current 55EA9700 model from 2013 (marketed as 55EA980W in the UK) which wowed us so much that it earned our highest "Reference Level" award.
The self-emissive display fun doesn't end there, though: LG is still producing plasma televisions in 2014, with four new models: from top to bottom, the PN6900, PB6600, PB5600, and PB560. The first three are 1080p plasmas, with the latter being a 720p model. LG's PDPs have fallen behind the competition from Samsung and Panasonic in recent years, but it's still inspiring to see some support for this display technology.
Unsurprisingly, LCD remains the dominant display technology, with LG showing off a dizzying array of models at the show. Curved, flat, UHD, HD, you name it, LG has a solution. All of these models feature the new webOS smart TV platform, which offers up a slick new user interface designed to make the TVs' various technological bells and whistles less intimidating and more fun to use.
Needless to say, we look forward to thoroughly testing all of LG's displays this year. Let us stick a probe on the front of those OLEDs, already!