For those who enjoy watching their favourite movies on a huge screen yet want to ensure that they also get excellent picture quality and crystal clear clarity, there has been some good news from Korean television manufacturer LG Electronics. The technology giant is set to unveil the world's largest ultra-high-definition (UHD) 3D TV at the Consumer Electronics Show (CES) in Las Vegas next month.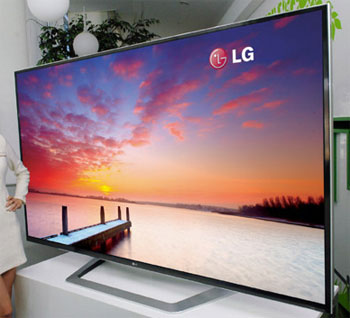 LG to unveil 84″ UHDTV with passive 3D at CES 2012
The new UHDTV from LG will benefit viewers by cleverly combining UD (ultra-definition) display technology with the company's own innovative smart TV function and tri-dimensional capability. At a massive 84 inches in screen size, the ultra-HDTV will not disappoint those who want to enjoy a proper cinema experience within the home, and will enable them to view their favourite content on a huge screen and with superb quality.
LG Electronics Home Entertainment Company's president and CEO Havis Kwon said that the new advanced UHDTV and the technology used would push "the limits of home entertainment innovation". He added that the firm is determined to show the CES audience that it is dedicated to being the global leader "for immersive home entertainment in 2012 and beyond."
The LG 3D-capable UDTV will feature a native screen resolution of 3840×2160 – which equates to eight million pixels and four times the resolution of a full HD panel – as well as the company's passive 3D technology. LG hopes to take home entertainment to a whole new level with this offering, by providing the best immersive viewing experience outside of cinema screens.
The ultra-high-definition 3DTV will also grant consumers access to the Smart TV ecosystem from LG, through which they can enjoy a huge range of internet-connected services including over 1200 apps. There is also a 2D-to-3D conversion engine on board, which allows viewers to enjoy limitless extra-dimensional viewing.