Earlier this week, we were invited by LG UK to a technical briefing at their Slough headquarters, where we were able to spend time with the Korean manufacturer's TV engineers and assess the company's latest OLED TVs including, for the first time, a final version of the 65-inch 65EC970V curved 4K Ultra HD model.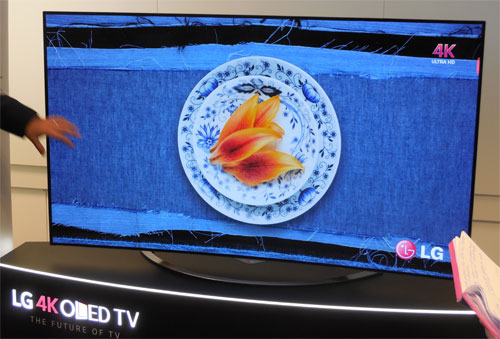 We were also given the opportunity to compare LG's new 1080p 55EC930V OLED TV and last year's 55EA880W (minus the outer Gallery frame) against 4K LED LCDs from other television brands. It turned out to be an interesting comparison since the extra resolution made little difference to picture quality on screens of this size, making you wonder if a UHD (ultra high-definition) 55-incher is actually necessary.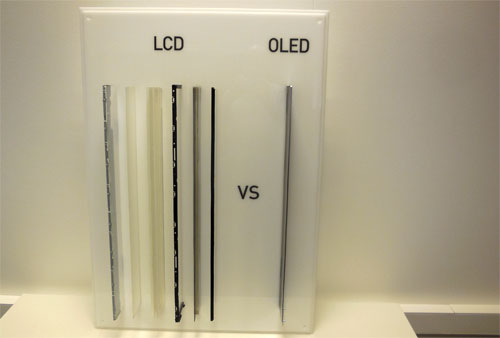 The first thing we noticed with the OLED televisions was the intense colours, which just leapt out of the inky black background, leaving the LED LCDs in the dust. Scenes that contained both bright and dark objects gave the LED local dimming systems real problems: the backlight needed to be set higher for the brighter areas, but that led to the surrounding darker portions becoming washed out. A star field is a good example of this – the LED TVs covered the whole area with a mist due to backlight leaking through. In isolation, you may not notice but next to the OLED where black was black, white was white, and there were no halos or light pooling, the LCDs had nowhere to hide.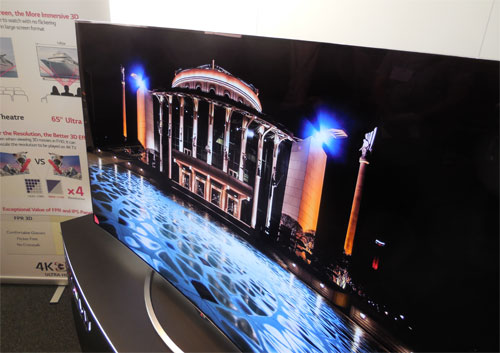 Moving on to the 65in LG EC970V, we got more of the same – all the contrast and colour intensities combined with an indiscernible dot structure. With HD content, we could see some blocking around curved and diagonal lines, but native 4K content was a match made in heaven for this display. It's a great piece of furniture too with its pencil-thin panel and narrow bezel. The 65EC970V actually looked cosmetically better than its 77-inch brethren due to the bigger screen featuring a black strip along the bottom to accommodate the forward-firing speakers.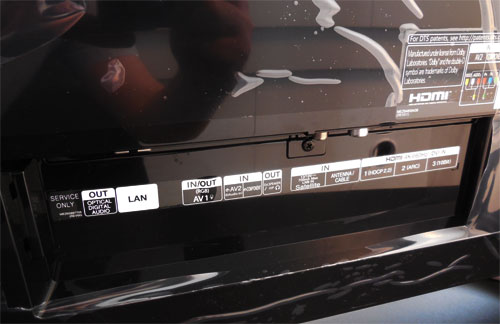 This year's LG panels still have a gloss finish which the company said is preferred by consumers. The South Korean giant had previously made a matt-finished LCD panel which didn't prove popular, so there's no plan to make non-reflective screens using something like Sharp's moth-eye filter technology.
According to LG, the panel life for these OLED sets is 30,000 hours – this is the industry standard measurement for how long before the panel reaches half its brightness. It's a worst-case scenario, and will be better if the TV is operated at lower than peak contrast and cell light settings.
There has been a lot of discussion regarding the motion capabilities of the LG 55EC930V, and while we'll reserve judgement until a full assessment under test conditions, the signs are encouraging. Both LG's 1080p and 2160p OLED TVs run internally at 100Hz or 120Hz, so any input must match those scanning rates. With [Trumotion] engaged, content is interpolated to p60 by adding new frames between the originals, which is then double-scanned by the panel. With [Trumotion] off, regular television content at i50/ i60 is double-scanned to 100Hz or 120Hz.
For 1080p/24, we watched the Blu-ray of Skyfall, and did not see any motion issues apart from the problems associated with the low frame rate of the source, which is not the fault of the TV.
A small number of 2013's OLED televisions had issues with stuck or dead pixels. LG explained that the main cause appeared to be very small particles getting left behind on the panel, interfering with the OLED material that's just 600 nanometres thick. The company has improved its panel-washing process to deal with the problem, so hopefully this (and next) year's OLED TV models will be better on this front.
LG has invested heavily in OLED research and development (R&D), and that shows no sign of slowing down. There will be a second OLED production line coming onstream in the second half of 2015, and we get the feeling that is just the beginning.
LG's research data showed that televisions over 42″ will soon account for 40% of the overall market, with 55″ being the fastest-growing segment. There won't be any OLED television smaller than 55 inches for now, but the great news for video enthusiasts is that LG is promising flat-screen OLEDs for next year in 55in and 65in sizes, along with a bendable 77in version, which are all expected to make appearances at CES 2015. No release dates were given, but the flat OLED displays can be produced on the same line as the curved panels, so they are not reliant on the second production line being operational.
In summary, it seems that the future of TV is bright, black and colourful, spearheaded by LG's awesome-looking OLED TVs. Although we've reviewed one before, we can't wait to get another one in for testing.