LG has launched its 2017 range of OLED TVs at this year's Consumer Electronics Show in Las Vegas, but the South Korean manufacturer is no longer the only OLED game in town – Panasonic and Sony have also announced their respective self-emissive displays at the trade show this week.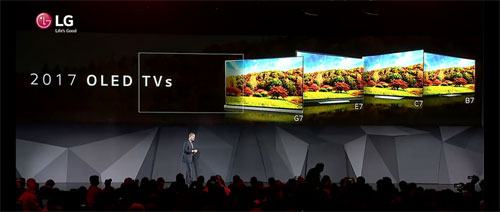 Faced with stronger competition from such established Japanese brands whose video processing prowess has always garnered respect among the video enthusiast community, LG is banking on its extended experience with OLED (the company has been selling OLED televisions every year since 2013), greater breadth in terms of model choices, earlier availability, intuitive WebOS 3.5 Smart TV platform, as well as exclusive support of Dolby Atmos and Technicolor HDR to gain an edge.
There will be five LG OLED TV ranges for 2017, each coming in two screen sizes, therefore making ten models in total. Here's a breakdown:
LG W7: Flagship SIGNATURE series with wafer-thin wallpaper design, which is available as the 65-inch LG OLED65W7 and the 77-inch OLED77W7.
LG G7: Same design as last year's G6, with a soundbar that can be folded backwards for wall-mounting. Available as the 65in LG OLED65G7 and 77in OLED77G7.
LG E7: Similar design to last year's E6, although bottom of TV is no longer flush to flat table-top surface across the entire screen, making lifting and handling easier during assembly. Comes in screen sizes of 55 (LG OLED55E7) and 65 (OLED65E7) inches.
LG C7: Now uses a flat panel whereas last year's C6 was curved. 55-inch and 65-inch versions (LG OLED55C7 and OLED65C7) respectively.
LG B7: 55″ and 65″ models are LG OLED55B7 and OLED65B7 respectively.
LG informed HDTVTest that all of its 2017 OLEDs will deliver the same picture quality, and receive the same software updates, indicating that they will share the same underlying chipset. Peak brightness could reach 1000 nits, but only in the [Vivid] preset (with an overly blue and inaccurate image) and on a very small window (5% or less). They will be the world's first TVs to support not only Dolby Atmos immersive audio, but also four HDR formats, i.e. HDR10, Dolby Vision, HLG (Hybrid Log-Gamma) and Advanced HDR by Technicolor (pending firmware upgrade). As written earlier, none of LG's 2017 OLED will have 3D capability.
On the HLG HDR broadcast standard front, LG was optimistic it'll be rolling out support on 2016 OLED models such as the G6, E6 and C6 retrospectively through a firmware update, but could not commit to any timeframe, so it's a case of watch this space.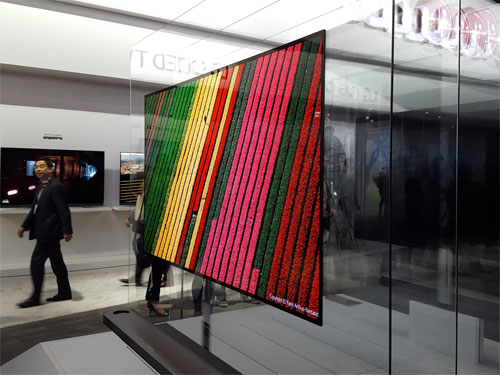 Of course, the headline grabber was always going to be the jawdropping LG W series which boasts an OLED panel measuring only 2.57mm thin (OLED65W7V), and a "Picture-on-Wall" design where the screen can be mounted directly on the wall with only magnetic brackets, thus eliminating any gap between the TV and the wall. A breakout soundbar which houses the processing hub completes the "floating in air" appearance, not to mention provides immersive Dolby Atmos sound through upfiring speakers.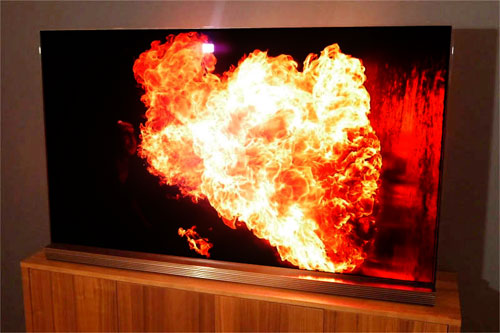 It was actually in a private Dolby demo room away from the bright showfloors that we got a glimpse of the image and sound performance of LG's new OLED. The unit used for the demonstration was a 65in LG G7, and it exhibited less highlight clipping and cleaner above-black rendition with less noise and posterisation than last year's models. Naturally we will need to feed more compressed source to the TV when we get our hands on a review sample in our own test lab before making a definitive judgement, but it certainly looked very promising.
However, it was the OLED65G7V's Dolby Atmos audio output that blew us away: we could scarcely believe the amount of bass, clarity and above all enveloping immersiveness that was pumped out from merely the soundbar, although we appreciate that the demo took place in a relatively small room which was likely to have been acoustically optimised. The dual Dolby Vision and Dolby Atmos notification that popped up on the top right corner of the screen upon detection of the relevant formats is something that you won't see on any other TV brand this year.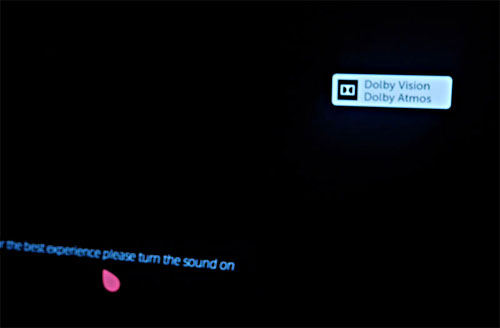 Looking through the picture menus, there's now 2-point [White Balance] controls in HDR mode in addition to the existing 20-point found on 2016 models, while the slightly confusing "Normal" [Color Gamut] option has been renamed to "Auto" which correctly suggests that the TV will either track Rec.709 or Rec.2020 automatically depending on whether it's in SDR (standard dynamic range) or HDR. Purportedly, ABL (Automatic Brightness Limiter) won't kick in below 150 cd/m2 in SDR (credit Chris Heinonen of The Wirecutter), and input lag has been lowered to 21ms even in [HDR Game] mode.
LG is looking to bring its first new OLEDs to the UK towards the end of March/ early April, likely starting with the smaller models (55C7 or 55E7). Prices remain unconfirmed, but we don't expect them to be drastically different from last year's launch prices. With Panasonic and Sony (re)joining the OLED fray and increasing the display technology's recognisability among the general public, 2017 is shaping up to be another strong year for LG, especially with its most affordable B7 series.
Update 13 March 2017: LG has announced official RRP (recommended retail prices) in the UK to be as follows:
OLED55B7V: £2,999; OLED65B7V: £4,499
OLED55C7V: £2,999; OLED65C7V: £4,499
OLED55E7V: £3,499; OLED65E7V: £4,999
OLED65G7V: £6,999; OLED77G7V: £19,999
OLED65W7V: £7,999; OLED77W7V: £24,999