This year's Mobile World Congress is all about product synergy as far as LG is concerned, as the Korean electronics firm demonstrates its newly developed capability to beam 4K Ultra HD resolution video from its smartphones to a TV – with absolutely no wires in sight.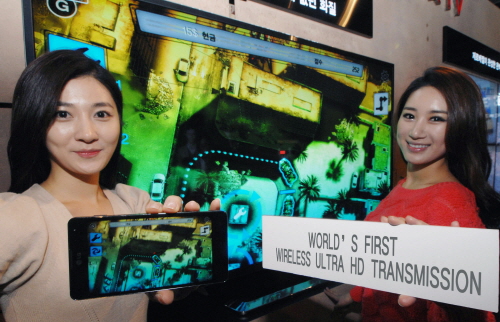 LG shows off new wireless 4K mobile streaming at MWC 2013
LG calls its new technology Wireless Ultra High Definition (Ultra HD) Transmission, bringing the ability to play games and view smartphone content to its 4K televisions in real-time. It doesn't say too much about how the new transmission system works, other than stressing that it uses approximately 50% less power than similar technologies. According to LG, this is achieved by reducing drain on the phone's processor and other hardware, but it doesn't give any details about how it's been able to do so.
The upshot of this looks to be very promising – bringing 4K viewers the ability to enjoy a smoother video streaming experience without excessive drain on their smartphone's battery. For those –admittedly few – that can afford to buy a 4K TV, the news will be particularly exciting, given the lack of native 4K content currently available to watch.
Dr. Jong-seok Park, President and CEO of LG's Mobile Division, emphasized this point, saying that the new wireless transmission system would be extremely beneficial for 4K TV owners who are want to get the best out of their new devices.
"Users will now be able to enjoy their favorite mobile content on the most advanced 4K TVs. This cutting–edge technology once again confirms that LG is a global leader in the area of mobile and display convergence, giving its customers the most enjoyable viewing experiences."
LG claims that its Wireless Ultra HD Transmission makes for a faster and smoother delivery of smartphone multimedia content than ever before, using what it calls "ubiquitous Wi-Fi connections". It even hinted at possible 4K upscaling too, saying that "multimedia content is automatically adjusted during transmission, matching the 4K resolution of the receiving TV, resulting in absolutely flawless visuals."
For now the technology is still in the development stage, with LG using a prototype smartphone integrating the new transmission system. The company says that it's still in talks with other smartphone makers and TV manufacturers to adopt the new technology, and so we probably won't see too many compatible devices in the near future.
Source: LG Newsroom