LG Electronics and Sony Corporation may be embroiled in a patent dispute over the Blu-ray technology used in the PS3 (Playstation 3) video game console, but that has not stopped the former's TV-making division from trying to persuade the latter to adopt its FPR (film patterned retarder) passive 3D LCD technology. The Korean conglomerate is seeking to topple Samsung as the leading brand in the 3D TV market by offering an alternative format of presenting tri-dimensional content which is purportedly superior to the active-shutter-glass (ASG) variant used by its cross-town rival.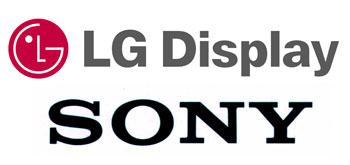 At a company event in Seoul today, LG Display's CEO Kwon Young-soo revealed that the firm has briefed several potential partners on the merits of FPR technology, and that one of them is Sony who is seriously considering whether to go down the passive 3D route. Thus far the Japanese HDTV maker has been using active-shutter technology in its 3D television models, but should it decide to start equipping its screens with film-type patterned retarders, it may represent a significant shift in momentum towards LG in its battle against Samsung for 3D supremacy.
Since launching the FPR technology in Beijing in December last year, LG has signed up a sizeable force of consumer electronics manufacturers – including Vizio, Toshiba, Philips and a host of Chinese firms like Hisense, Changhong, Haier, Skyworth, Konka and TCL – to produce and promote FPR-based 3D LCD panels. Getting Sony on board will be another major scoop for the Seoul-headquartered corporation who claims that FPR 3D TVs are capable of delivering a flicker-free viewing experience to reduce eye strain, and also allow for the use of polarized 3D glasses which are generally more affordable, lighter and more comfortable to wear than active-shutter glasses.
LG is still making and selling 3-dimensional televisions based on ASG technology, but intends to move its entire 3D LCD product range to FPR technology as soon as the third quarter of this year. With this strategy, the world's number two TV manufacturer hopes to make a serious dent in the 60% market share currently held by Samsung in the 3D TV arena.