Not to be outdone by Samsung's launch of its first smaller, more affordable ultra HD 4K TVs, LG Electronics has gone one step further with the release of its own 55-inch and 65-inch 4KTVs, which come with the added bonus of being the first ultra high-definition (UHD) televisions to include a built-in decoder for the new HEVC video codec.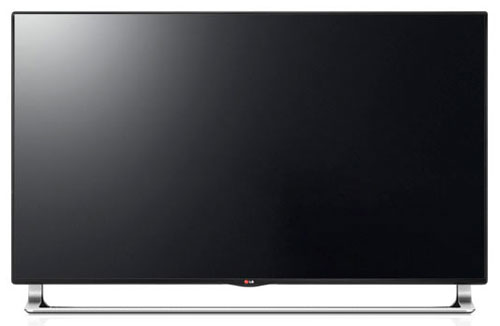 LG's slimline 55LA970W and 65LA970W, which sport an elegant look with their attractive silver stand and super-slim bezel, come with quite a few unique features that set them apart from similar offerings by rival TV manufacturers Samsung and Sony. One of the most obvious would be the South Korean firm's Nano full-array LED backlight technology which helps to deliver a sharper picture by spreading LED particles across a thin film behind the screen, allowing 144 separate zones to be dimmed locally. We haven't yet tested it out, but LG claims that the technology delivers significant improvements in contrast and black levels (which is surely much needed given that the underlying LCD panel type is IPS).
A second unique feature is the retractable 4.1 channel sound bar speaker system that slides away, out of view, whenever the TV is switched off. The system can even be set to remain out of view at all times, and incorporates a subwoofer located behind the screen for lower bass sounds.
These are great features in their own right, but the biggest selling point of the LG 55LA970W and 65LA970W surely has to be the inbuilt HEVC decoder. HEVC, also known as H.265, is the recently standardised new video codec which many believe holds the key to facilitating 4K content delivery over the web. HEVC uses an extremely efficient compression technique that makes it possible to stream Ultra HD content without eating up any more bandwidth. It isn't in widespread use just yet, but in the next two to three years we can expect to see many content providers and perhaps services like Netflix and Lovefilm switch to the new HEVC format. In addition, it's likely that Blu-ray will adopt the new standard within the next 12 to 18 months, and so it makes sense to have a UHDTV that's ready for it.
For now, it's unlikely consumers will find much use for the HEVC codec as hardly anyone has started to use it. To compensate, the LG LA970W series uses Tru-Ultra HD upscaling technology that's capable of converting regular HD content into something approaching 4K resolution. On top of this, the 55in and 65in 4K TVs come loaded with all the usual smart features, including the company's smart TV platform and all the content and apps that comes with it, plus its passive Cinema 3D tech.