LG Electronics has outlined its OLED TV strategy for the year ahead at a 2015 AV product preview event in Weybridge this week. Also revealed were the expected 4K OLED models to land in the United Kingdom during the first half of 2015, as well as their ballpark prices.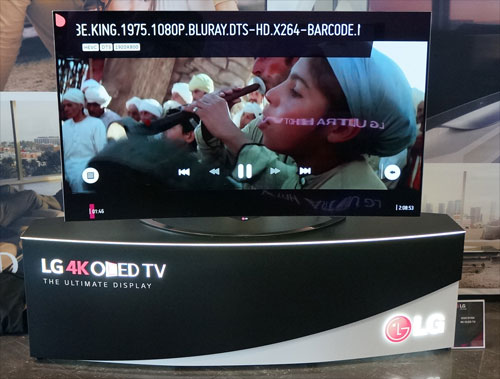 Despite facing production issues to bring its ultra high-definition (UHD) OLED TVs to market, the South Korean manufacturer reiterated its commitment to this mouth-watering display technology that's capable of delivering true blacks owing to its self-emissive properties. LG UK's commercial director of consumer electronics Andy Mackay said the company is not looking towards LED LCD as competition; instead it's treating OLED as a spiritual successor to plasma in terms of black-level performance – a sentiment with which we largely agree.
At this moment in time, LG is positioning OLED television as a premium product for customers who want the very best in picture quality. However, as production ramps up (Mackay quoted a US$600 million investment in infrastructure) and yield rates improve (although LG refused to be drawn on a specific figure for 3840×2160 panels), the firm fully intends to make OLED TV mainstream by lowering the entry price point. Western Europe including the UK has been earmarked as a lead market to present greater volumes of OLED sets.
Moving onto individual models, LG confirmed that all its new OLED televisions in 2015 will feature native 4K Ultra HD resolution. The 2014 55EC930V (which we praised highly in our review despite some issues) will carry over as the sole full HD 1080p set to serve as an affordable entry point into large-screen OLED technology. Interestingly, LG UK's product manager of home entertainment Robert Taylor hinted that a 4K version may be launched at IFA later this year at a similar price. A 55-inch 4K OLED TV for £2,500? Just take our credit card already!
What really surprised us was that the EC930V isn't the only 2014 carry-over model. The LG 65EC970V, which was launched in June last year but never came into stock for purchase (at least within the UK), will apparently start arriving in British stores at the end of March, commanding its original retail price of £6,500. The EC970V even received centrepiece location at LG's event yesterday, and first-page billing in the company's 2015 product range preview brochure.
To make things more confusing, the 2015 4K OLED models, namely the 65-inch LG 65EG960V and the 55-inch 55EG960V, are supposed to get a UK launch between March and April too, at estimated prices of £6,500 and £3,800 respectively. When asked why potential customers would want to buy a 2014 model when a newer version with upgraded WebOS and processor is available for the same money, Taylor explained that the 65EC970V holds the upper hand in certain design elements such as the 4-channel Harman Kardon speaker system, and that the company is keen to provide more choices for consumers.
All of LG's 2015 4K UHD TVs will have one or two clearly-labelled HDMI 2.0 ports with HDCP 2.2 compliance. None of the Ultra HD models (including OLEDs) landing during the first half of 2015 will feature HDR capability (and we're told it's not possible through a firmware update), though the company will seek to launch HDR-ready TVs at IFA in September when hopefully the standard has been ratified.
On the subject of curved versus flat screens, Mackay stressed that the battleground is not in the design, but in the picture. Reading between the lines, non-fans of curved displays will probably have to wait some time for the flat 4K OLED televisions to come to market – the high-end 65EF980V is slated for a fourth-quarter launch.
As with all things OLED, please do not take the pricing and availability cited in this article as gospel – we've been burnt far too many times by repeated delays and non-existent stock. Nevertheless, it's reassuring to see LG pushing full steam ahead with its OLED TVs… just get some 4K ones into stores (and our test room)!