Loewe has added a 46-inch model to its Art Series of LED-backlit LCD TVs, the largest yet in the range. The Loewe Art 46 LED 200 fits perfectly with the company's strategic plan to gradually phase out LCD televisions equipped with CCFL (cold-cathode fluorescent lamp) backlight in its HDTV lineup, and expand its range of internet-connected TV products. In line with the firm's reputation as a luxury brand, the display happens to cost a pretty penny too.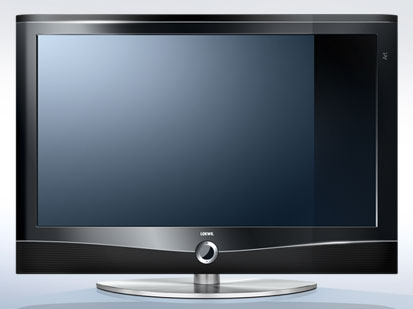 The model name gives some clues about the features implemented on the set. The LCD panel on the Loewe Art 46 is illuminated by edge-mounted LEDs, allowing for a thinner chassis and lower energy consumption. The LED LCD TV is also blessed with 200Hz motion-compensated frame interpolation (MCFI) technology, which should improve the clarity of moving objects on screen.
Carefully sculpted by Stuttgart-based design firm Phoenix Design, the LED TV is available in 3 finishes: conventional glossy black; contemporary metallic silver; or cosy Mocha brown. Aided by LED backlighting technology, the Loewe Art 46 is also extremely frugal when it comes to power usage. Standby consumption is purportedly less than 0.4W, and German high-end AV equipment manufacturer has thrown in a hard power switch to ensure zero wattage loss during prolonged absences.
Despite the slim form factor, Loewe claims that the Art 46 packs a punch in acoustic terms, as the company has somehow managed to squeeze a pair of 20W stereo speakers and a 40W subwoofer into the cabinet. Codec-wise, the LED-based LCD television is capable of handling Dolby Digital Plus, AC3 and DTS soundtracks. DR+ models come with an integrated 250Gb hard disk drive, providing access to online content through the internet-connected MediaNet platform. There also exists a MediaHome interface, which allows video, photo and music files stored on a home network or USB thumbdrive to be played back on the display.
The company's CEO Oliver Seidl certainly isn't joking when he said that the Kronach-headquartered TV maker will tailor its offerings to meet the demands of premium European customers. The Loewe Art 46 LED 200 sports a retail price tag of £2395, which is probably a bit too extravagant for the average consumer, especially given that it doesn't even have 3D capabilities.