We finally got our first glimpse of Loewe's first ever OLED TVs at the IFA 2016 consumer electronics show in Berlin this week. The Bild 7 was shown to UK trade retailers earlier in July, but at IFA the premium German AV brand also unveiled its Loewe Bild 9 series of designer concept OLEDs inspired by minimalist lines and artistic sculptures.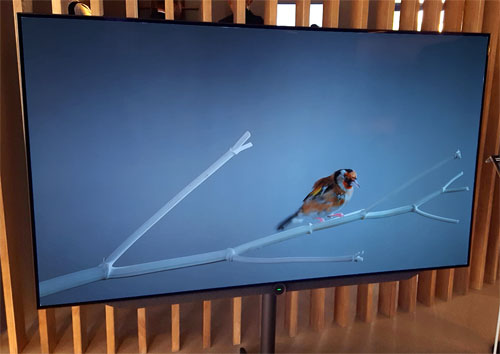 Like all consumer OLED TVs available to buy new today, the Loewe Bild 7 uses a WRGB OLED panel supplied by LG Display, sporting a flat screen and a UHD (ultra high-definition) resolution of 3840×2160. Two screen sizes are available, namely the 55-inch Bild 7.55 and the 65-inch Bild 7.65.
OLED display technology currently delivers the best overall image quality on the market, owing to its self-emissive characteristic that allows for absolute blacks, vibrant colours and wide viewing angles. However, Loewe is seeking to put itself ahead of other OLED vendors through a variety of innovations, ranging from proprietary picture processing (dubbed "VantaVision" after VantaBlack®, the darkest man-made substance ever created) to integrated 1TB hard disc drive for PVR purposes.
But the Loewe Bild 7's greatest party trick is surely its motorised startup and shutdown mechanism, injecting an aura of luxurious opulence together with the set's meticulous craftsmanship. When in standby, the integrated soundbar – twice as powerful as that found on LG's flagship SIGNATURE G6 – is hidden from view, but switching the TV on would slide the screen smoothly upwards and reveal the slim yet punchy soundbar. More motorised wizardry can come in the form of remote-controlled swivel on the optional table or floor stand.
The Bild 7.55 and 7.65 do carry Dolby Vision-capable chipset, though we understand that licensing approval is still pending. The 4K HDR OLED televisions also fulfil Ultra HD Premium specifications, and the company is in the process of obtaining accreditation from the UHD Alliance (UHDA).
Update 6 September 2016: Loewe informed us that the Bild 7 has passed certification for Dolby Vision with flying colours, and a DV software update should be issued in October.
The 55in and 65in Loewe Bild 7 will retail for £4,490 and £6,490 respectively, which isn't that much pricier than LG's most expensive models. Stock is expected to arrive in good UK stores within the next two weeks.