Five weeks ago, Loewe launched a 46-inch model of its Art series of LED-backlit LCD TV, which is priced at £2395 yet does not feature 3D capabilities. Today, the German premium HDTV manufacturer has officially unveiled its first 3D TV range as part of the Individual Compose series, belatedly joining the extra-dimensional home entertainment revolution which has grown in strength since the spring of last year.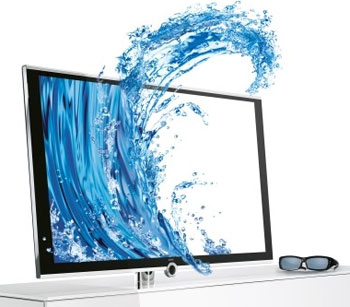 Given its reputation for making high-end audio-visual equipments, Loewe understandably opted for active-shutter 3D technology instead of going down the passive route. Although passive 3D has gained traction in recent months due to its largely flicker-free viewing experience as well as the much cheaper price and greater convenience of the technology's polarized 3D glasses, active 3D televisions typically deliver higher image resolutions (full HD 3D) to both eyes, which is an important selling point for discerning customers who demand the best in picture quality.
The Loewe Individual Compose 3D range comes in three screen sizes, namely 40, 46 and 55 inches. Its LCD panel sports a full HD native screen resolution of 1920 x 1080, and is illuminated by edge-mounted LED backlighting (which should allow for a slim design and lower power consumption). Each model is also equipped with 400Hz motion-compensated frame interpolation (MCFI) technology to boost the clarity and definition of moving objects.
An infrared transmitter is built into the LED television set for synchronisation with the active-shutter glasses during 3D viewing. All Loewe Individual Compose 3D models also feature an integrated 500Gb hard-disc drive (HDD) recorder which lets users not only record, pause and rewind live TV broadcasts, but also stream content – even 3D ones – to another compatible Loewe display. Connectivity-wise, there's the MediaPortal that extracts media from networked devices to be played on screen, and the MediaNet internet-connected platform which includes an inbuilt Opera web browser.
Buyers can choose from high gloss white, aluminium black or aluminium white to complete the appearance of their sets. Depending on the finish, the Loewe Individual 40 Compose 3D, 46 Compose 3D and 55 Compose 3D will carry a starting price tag of £3500, £4100 and £4800 respectively. Each pair of compatible active-shutter 3D glasses will cost £130.