Two new apps designed to run specifically on the Apple iPad tablet have recently been released by Loewe, the German premium AV equipment manufacturer, to be used in conjunction with its internet-connected HDTV displays and integrated home theatre systems.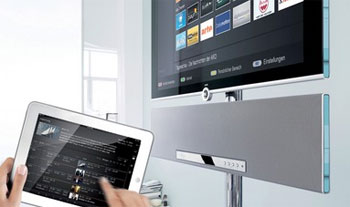 Loewe Smart TVs get Assist Media & VideoNet iPad Apps
By turning the iPad into an interactive and highly intuitive multimedia remote control that offers a range of special features including a customisable dashboard, the Assist Media app from Loewe provides users with a far greater level of functionality from their devices. This new application allows users to use the "One Touch Recording" function to record TV programmes and movies, as well as switch to any channel that has been saved on the dashboard just by tapping on the iPad touchscreen.
The huge Gracenote database gives users access to details for a wide range of different television programmes and films using a highly intuitive EPG (electronic programme guide). Viewers will also be able to use their iPads to access content either their own local network or from the internet using a variety of applications on the MediaNet web-enabled portal provided by Loewe.
The second app, dubbed VideoNet by Loewe, will give users access to movies, TV programmes and online videos from anywhere in the world quickly and easily. As with the Assist Media app, users will be able to set video favourites with a single tap of the touchscreen, ensuring they can instantly access material they watch on a regular basis. Users can either enjoy these content on the iPad, or stream them to any internet-capable Smart LED TV from the company that is over 32 inches in screen size using the app's "Send-To-TV" function.
For a limited time both of these iPad apps are completely free to download from the iTunes App Store – each app will cost £3.99 once the offer ends.