There's good news in store for fans of the luxury audio-visual equipment manufacturer Loewe who has announced it's being taken over by new owners, the German investment firm Stargate Capital GmbH, following the apparent pull-out of a previous consortium of interested buyers.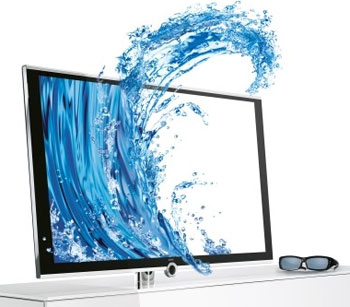 The acquisition, which is set to go through at the beginning of next month, signals the end of months of uncertainty and speculation over the high-end TV maker's future. This uncertainty began back in October 2013 when the company was reported to be filing for bankruptcy. Those reports later turned out to be false when Loewe confirmed to HDTVTest that it was going through a period of "self-administered insolvency", though its money troubles were certainly real enough. Even so, the company stated back then that it was confident it could find new investors – and indeed, later that month announced it had received a "specific written offer" from mystery investors that would allow it to complete its strategic business realignment.
Those mystery investors were later revealed to be a consortium made up of the Munich-based investment firm Panthera GmbH, as well as former Apple and Bang & Olufsen executives Constantin Sepmeier and Stefan Kalmund, who agreed to acquire Loewe for an undisclosed price back in January. The consortium was set to obtain a "significant part of the company", and had plans to target a "wider, younger, design- and tech-savvy base of customers throughout Europe, Russia and China."
What isn't clear is when and why those investors suddenly pulled out – all we know is that for some reason the deal didn't go through, despite being on the verge of completion. But luckily for Loewe, it seems Stargate Capital was waiting in the wings all along.
Now, providing Stargate doesn't pull out at the last minute too, it's set to acquire the entirety of Loewe's business operations, including its manufacturing division. That's great news for the company's workers at its plant in Kronach, Germany, where three-quarters of all jobs are to be saved. In addition, Stargate Capital will also take over Loewe's international subsidiaries, something that will enable it to look forward with "a renewed sense of optimism," said the company in a statement.
Matthias Harsch, CEO of Loewe, said that he was delighted that the company has found new investors:
"In Stargate Capital we have found an investor that will pursue a long-term strategy aimed at restoring Loewe to its former strength. This will finally give Loewe a new lease of life."
Loewe says that the takeover will be formally completed next month, though it declined to say how much the deal was worth. What it did say however, was that the company would receive a cash injection "totalling tens of millions of euros" in the coming years from its new investors.
Loewe also remained coy about its plans for the future, though its UK Managing Director James McConnell hinted that there were exciting things to come from the firm:
"We are on track with the development of an exciting product roadmap with strategic partner Hisense which will debut at IFA this year. For UK dealers this will mean better products, better supply and a rejuvenated Loewe."
This confirms a previous statement made by Loewe in January, when it revealed plans to focus on "high-end digital products", in close collaboration with its new Chinese partner Hisense.