OLED is dead. Long Live 4K TV!!
That's the battle cry right now for the world's top two television manufacturers Samsung and LG Electronics, as they switch their priorities away from the display technology promised throughout this year's consumer electronics trade shows, and look towards the extremely promising future that ultra high-definition (UHD) TV seems to have in store.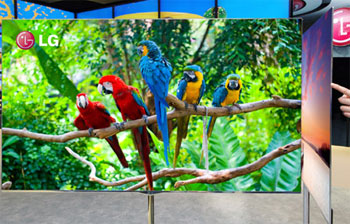 Deterred by low OLED yields, LG & Samsung switch focus to 4K TV
To say OLED TV is dead is probably a little premature – but there can be no denying that it will be nothing short of a miracle if we see it in the shops anytime soon. A recent blog post from NPD DisplaySearch's analyst David Hsieh confirmed as much, once again highlighting the massive problems that panel makers have faced in getting OLED manufacturing up to speed.
LG and Samsung have been beset with low yield problems in their efforts to make OLED television production a commercially viable enterprise, forcing the Korean firms to announce several delays despite previous promises that OLED TVs would be available to buy on the consumer market by the end of 2012.
Now, for the first time, DisplaySearch has revealed just how shockingly bad these problems are, and how much work there is to be done. Recent pilot production runs of 55-inch AMOLED panels showed astonishingly low yield rates, owing to the fragility of large-sized backplanes. Straight yield (i.e. prior to repair) came in at less than 10%, meaning that at least 9 out of 10 panels were damaged in some form or another. Mending the defective panels (either physically or electronically) merely improved yield rates to under 30% – to put it another way, more than 70% of all panels had to be discarded. Even those that do make the grade are reported to have their lifespan cut short by the bonding process which causes further instability to the organic compounds.
These struggles alone probably wouldn't have dissuaded Samsung and LG from pursuing the technology, but the final nail in OLED's coffin may well come from another direction. The rapid emergence of 4K LED LCD TVs, which generated enormous excitement at this year's IFA in Berlin, has presented the South Korean TV makers with a tempting alternative that can be immediately put into production.
Hsieh suggested that Samsung and LG have already realigned their priorities in light of these developments, putting UHD TV at the forefront of their plans for the next year, while OLED sits on the backburner for the time being. Both brands are expected to unveil their own big-screen 4K TV offerings at the CES 2013 in Las Vegas next month.
Interestingly, Hsieh said that such a move would be unlikely to disappoint the vast majority of consumers, with market research suggesting that many households are just as likely to be satisfied with a UHDTV as an OLED television, and perhaps even more so, given the additional costs of the latter.
Source: DisplaySearch blog