The popular High Street store Marks & Spencer, which is a household name in the UK, has become the first British retailer to partner with Samsung when it comes to the latter's Smart TVs. M&S will bring a taste of the High Street to consumers' living rooms via their Smart TVs, through the creation of a specialist app for these internet-connected HDTV sets.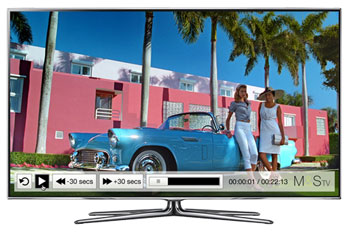 Marks & Spencer launches M&S app for Samsung Smart TV
The new app is available for download from the Samsung TV App Store. It was developed alongside Adjust Your Set, a London-based multi-channel video agency. Viewers who use the new app will be able to enjoy a range of benefits from being able to check out the latest trends on the High Street through to getting tips and advice on matters such as lifestyle, technology, food and fashion amongst others things – and they can view all these from the comfort of their own homes, and in high quality on their Smart televisions.
Viewers can look forward to getting all this content and more from the M&S application whilst enjoying a high quality viewing experience on their Samsung Smart TV displays. Additional content and tips that will be available via the new app include recipes, beauty tips, and even advice on choosing the right wine to match your food.
Samsung UK's marketing director for TV Guy Kinnell said that the development of the new app from M&S showed that more and more people now want to enjoy this type of content on a more "immersive and interactive" platform such as the company's Smart TV portal. Consumers will also benefit from the lifestyle content delivered by Marks and Spencer which a huge and well-known brand in the United Kingdom.