Microsoft is making a move to revolutionise use of the second screen, extending its Xbox video content service to PCs, smartphones and tablets via its new Xbox SmartGlass app.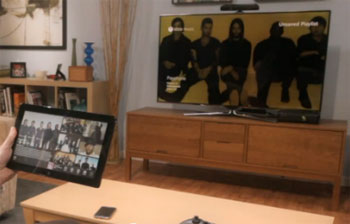 Microsoft updates Xbox with SmartGlass second screen app
SmartGlass allows Microsoft to centralise its TV, film, game and music offerings into just one, convenient portal that can operate across multiple platforms, and comes with a number of useful features that extend the services previously only available for Xbox users.
The app was first revealed back in June at E3, and represents Microsoft's own take on second-screen technology. At first glance, SmartGlass seems to offer a seamless way for tablet and smartphone users to tightly integrate their television and video content. Using the app through any Windows 8 or Windows RT device, users will be able to manage their content through all of their devices which are running on the same network.
An example of this would be if you, say, were watching a film on your smartphone and hit the pause button – later, you could pick up where you left off through your Xbox (displayed on an HDTV) or tablet device. In addition, mobile devices can also be employed as a standard second-screen, letting users access background information about the movie or song they're listening to; for example, they could find out more about the actors involved or search for suggested content.
One additional feature we like the look of is the Smart DJ function, which will assist users as they search for similar artists to add to their library.
SmartGlass will be offered in two variants; free and premium, with the paid version costing £8.99 a month and offering unlimited streaming plus other features the free version doesn't have.
Microsoft plan to roll out the SmartGlass app on the 26th of October, initially on Windows 8 devices and the Xbox 360, with Android and iOS versions to be launched early next year.