As a TV brand, Mitsubishi hardly has any presence on the high street in the United Kingdom, but it has come to our attention that the manufacturer is officially withdrawing from the global flat-panel LCD TV market this year. The Japanese corporation's US subsidiary announced last week that it is restructuring its TV business and workforce to concentrate on producing and selling big-screen HDTV displays sized 73 inches and above.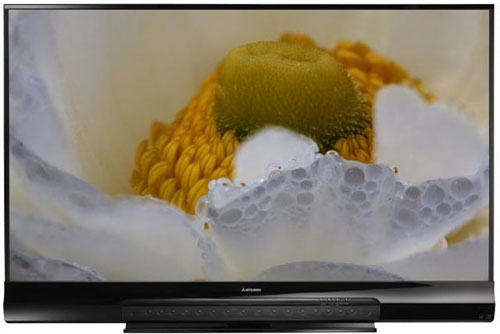 In a press release originating from Mitsubishi Digital Electronics America (MDEA), the company's senior vice president of corporate communications Cayce Blanchard explained that the cessation of its LCD television operations will pave the way for a strategic repositioning of Mitsubishi as a "large-screen" TV maker on both the home and professional fronts. Its AV (audio-visual) arm will continue to make and sell projection television sets (both DLP and LaserVue) with screen sizes of 73 inches or larger, while its Professional Visual Systems (PVS) business will focus on supplying other commercial entities with projectors, display walls, printers and supersized public display screens.
Under the restructuring process, the Tokyo-headquartered conglomerate will cut down its workforce in part by closing its Ontario and Braselton offices, relocating those services instead to its Irvine, California base. Its Mexico plant will also see some downsizing, but production and assembly of large-screen projection TVs will still continue. Some changes are to be expected in its dealer network too, as the company attempts to find the most suitable distribution channels for its revamped product lineup.
Mitsubishi boasts a decorated CV in its history of TV manufacturing, having released its first electric television in 1953, and launched the world's first 35-inch colour TV in 1985. However, in recent years the company have found it difficult to compete against the likes of Samsung, Sony, Sharp, LG and Toshiba in the LCD television space, finally prompting the firm to pull the plug on its LCD TV business to fully concentrate on dominating the 70-inch-plus large-sized HDTV niche.