Many households these days have what they describe as a home cinema system, which usually involves a pretty decent sized HDTV set, surround sound speakers for authenticity, and a high-specification media player. However, a new range of high-definition televisions could bring whole new meaning to the term "home cinema".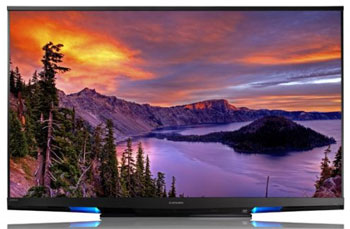 According to reports from the United States, Mitsubishi has announced a new lineup of HDTVs, which will come in sizes that some people may struggle to fit comfortably into their living room! The Japanese conglomerate announced last year that it was leaving behind the world of LCD to focus on large-screen models after struggling to keep up with competition in the LCD TV market.
Whilst the company may have faced some issues trying to compete with rivals such as Samsung, Toshiba and Sony in terms of LCD TV sales, it may come into its own with the manufacturing and sales of big-sized television models. Its "Go Big" 2011 HDTV line up is said to include an impressive 92-inch, 3D DLP set for true home cinema viewing.
This mammoth TV (model number WD-92840) forms part of the Diamond 840 Series from Mitsubishi, along with 82-inch and 73-inch models. Other features that come with TVs in this series include a 16-speaker Dolby Digital 5.1 surround sound system and Bluetooth Audio. According to the company the viewing area offered by the 92-inch model is four times that of a 42-inch TV. Mitsubishi is hoping that its giant televisions will help to fill a gap in the market and cater for growing demand for larger screens. In a recent press release, a Mitsubishi spokesperson explained that the manufacturer is trying to fulfill the demands of consumer who want "outrageously large screens with the high speed response and picture quality to transform 3D TV watching into a bigger-than-life, fully immersive experience".