The award-winning streaming music service from MOG has launched on both Samsung Smart TVs and Blu-ray players in the USA. The availability of the service was announced recently by MOG, with officials confirming that it has been made available on 2010 and 2011 internet-connected HDTV models.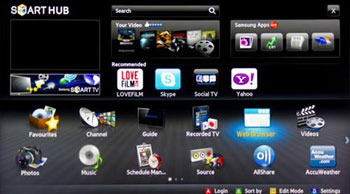 MOG music streaming app hits Samsung Smart TV models
The service will give American consumers the ability to enjoy the huge catalog of on-demand music from MOG directly on their television sets. The music service can be found in the "What's New" and "Lifestyle" sections of Samsung Apps, from where listeners will be able to immerse themselves in high quality music in the comfort and privacy of their own homes.
Once the app has been downloaded, listeners will enjoy access to over twelve million tunes, as well as Artist Radio from MOG, all of which comes in high quality audio for an enhanced audio experience. The service provides fast and unlimited access for consumers along with a variety of features such as simple search and browsing facilities, recommendations and new releases. With the on demand service, music lovers will be able to benefit from great choice, great quality, and flexibility when it comes to when and where they access their favourite music.
David Hyman, CEO of MOG, said that it was the company's aim to provide US listeners with high quality on-demand music from a huge range of albums and artists. He said that he wanted consumers to be able to access and enjoy their favourite music wherever they were, whether it was in the home, in the car, or whilst on the move. Hyman said that MOG was delighted to be able to partner with Samsung with regards to providing its service, describing Samsung as "a true leader in the consumer electronics industry".