A UK consumer electronics retailer has revealed that it is seeking legal counsel about an offshore corporation attempting to pass off as its online trading arm by registering and operating similar-sounding domain names. In a statement issued this week, Essex-based Home Cinema Store Ltd clarified that this offshore corporation is in no way affiliated nor associated with the company, and advised its customers to make sure they are on the correct website before handing over their credit card details.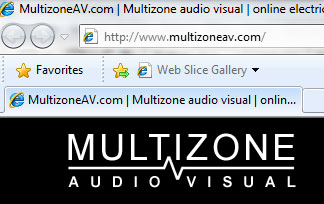 Besides operating brick-and-mortar shops in Romford, Basildon and Lakeside, Home Cinema Store sells audio-visual products – ranging from HDTV displays to home theatre systems – through its official ecommerce portal MultizoneAV.com. However, in recent weeks a cluster of websites containing the same MultizoneAV trading name (such as multizoneav.net, multizoneav.info and multizoneav.eu) have emerged on popular search engines, presumably to lure unsuspecting customers who may believe that they're buying from a trusted dealer when in actual fact they are not.
Whilst unethical and dishonest, the offshore company's attempt to pass off as Multizone AV is hardly surprising, given the amount of positive goodwill and strong branding the latter has build up over the years. Adhering to RETRA's (The Radio Electronics and Television Retailers' Association) code of practice, MultizoneAV.com has scored a 5-star rating with customer reviews on Trustpilot.com, and is part of the ISIS (Internet Shopping is Safe) and IDIS (Internet Delivery is Safe) approval programmes. All payments on the website are processed through the Sagepay gateway, and secured with SSL verification from Verisign.
Unlike the rogue websites, the official MultizoneAV.com site carries distinctive branding, and clearly displays the parent company's contact address and telephone number. If in doubt, customers are advised to contact Home Cinema Store Ltd directly on 01268 202 200 for clarification.