A dedicated application from MUZU.TV has been launched on various Sony Home Entertainment products, which means that users will be able to enjoy watching a wide range of music videos from a variety of popular artists. The new app will be available on selected Sony products equipped with the company's recently rebadged on-demand content portal Sony Entertainment Network (previously known as Qriocity), including Blu-ray players, home theatre systems, and Bravia HDTV sets.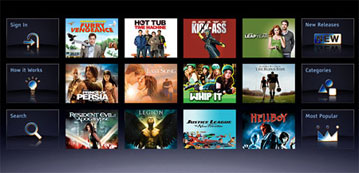 MUZU.TV music videos debut on Sony Entertainment Network
More than eighty thousand music videos will make up the extensive library from the MUZU.TV application, offering plenty of choices for viewers. The videos will include live performances, classic music and new releases. MUZU is already available on Samsung Smart TVs, and is set to launch on the Xbox 360.
Because of its deal with four major record labels, MUZU is able to provide consumers with free access to videos from major recording artists from Katie Perry and Beyonce to the Kings of Leon and many other indie artists. The service is only three years old, but is already enjoying huge success.
The new Sony Entertainment Network (SEN) launched in September of this year, and has secured around 90 million subscribers on a global basis. The service enables the streaming of music and video across a range of different devices, which includes phones, consoles, tablets and televisions.
MUZU.TV chief executive and co-founder Ciaran Bollard said that the partnership with Sony Entertainment Network has provided a huge boon for the company – MUZU.TV customers are now able to access music through its services with three major partners, one of which is now Sony.
A Sony spokesperson added that the company is always looking for new ways to let consumers enjoy videos and music, so adding new partners like MUZU.TV provides more opportunities for the Japanese technology giant to reach this goal.