British Sky Broadcasting (BSkyB) shows no sign of letting up in its war against rival video-on-demand (VoD) providers like LoveFilm and Netflix, with the broadcaster ramping up its policy of signing exclusive deals with major Hollywood producers. Having recently agreed a deal with Warner Bros. to gain exclusive access to all of the studio's newest films, Sky has now come to a similar understanding with NBC Universal, giving it exclusive distribution rights to all of its movie content.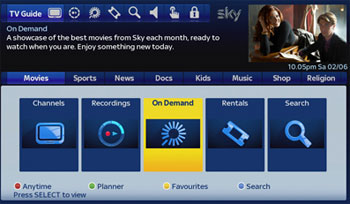 BSkyB bags exclusive NBC Universal deal for Sky Movies HD
The deal is a pretty comprehensive one, giving Sky unlimited access to NBC Universal's newest movies and also its TV offerings from channels including E!, Movies24, SyFy and Universal UK. Sky plans to make the content available via its Sky Movie channels on an on-demand basis, through its multi-platform service Sky Go, and also its new NOW TV app, giving viewers access to NBC Universal's content across a wide range of mobile devices. In addition, the movies will be available to watch on the company's 3D and HDTV channels where available.
Under the deal, Sky viewers will be able to enjoy exclusive access to recently released NBCUniversal blockbusters such as Battleship, The Bourne Legacy and Snow White & the Huntsman, as well as upcoming titles like Anna Karenina, The Man With The Iron Fists, and About Time. As well as movies, dozens of NBC Universal's popular television shows will also be made available exclusively to Sky subscribers, including popular shows like Law and Order: Special Victims Unit, Keeping up with the Kardashians, Continuum, Rookie Blue and Warehouse 13.
"I'm delighted that we've been able to extend our agreement with NBC Universal," said Sky Movies director Ian Lewis.
"Sky customers will be able to enjoy an unrivalled in-home movie experience, thanks to our innovation and NBC Universal's selection of hit movies. What we're doing is giving our customers their favourite movies on their own terms – and we're doing so at least 12 months before any other subscription service can."