A recent announcement from Korean consumer electronics manufacturer Samsung has confirmed that the latest addition to its Smart TV App store will be the worldwide subscription service for TV programmes and movies online, Netflix. Users will be able to access tens of thousands of television programmes from both the US or the UK, and recently released movie titles using the Netflix app, which is available initially on the Samsung D7000 and D8000 series of internet-connected HDTV displays, and later extended to the 2012 ranges of Blu-ray players and Smart TVs.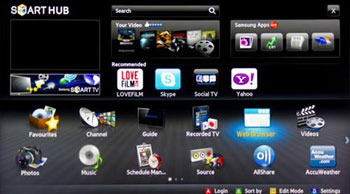 Netflix app debuts on Samsung Smart TV Apps store
Netflix is currently offering a free one-month trial subscription to its service that will allow users to stream and watch an unlimited number of films and TV programmes on their PCs, mobile devices or Smart TV sets. Once this has ended, users can carry on accessing the app for £5.99 a month without needing to be tied into any contract, so they can cancel the service whenever they like.
Samsung UK's director for TV Guy Kinnell explained that their commitment to provide customers with a wide selection of top-quality video services has led them to bringing Netflix on board. He added that for viewers who enjoy watching television and films, the addition of the Netflix Smart TV application along with the various methods of payment across their entire range of entertainment apps will provide excellent value for money.
Greg Peters, the vice president of product development at Netflix, said that the huge variety of TV programmes and movies that can be streamed by Netflix over the internet straight onto Samsung Smart TVs will give Netflix users in the United Kingdom one of the best streaming experiences currently available. With apps like YouTube, Twitter, Facebook, BBC iPlayer, Rightmove and Teletext Holiday available on Samsung internet-enabled Smart TV models, the new Netflix app will be another welcome addition to the constantly expanding range of services that are becoming available to owners.