It's no secret that TV manufacturers are desperate to work with video-on-demand provider Netflix to deliver 4K content to viewers. Netflix is thus far one of the only sources of such content, having kicked off its 4K streaming service last year with titles like House of Cards Season 2. But 4K streaming isn't enough for LG Electronics, which has just announced a partnership to deliver High Dynamic Range (HDR) 4K Netflix content in the near future.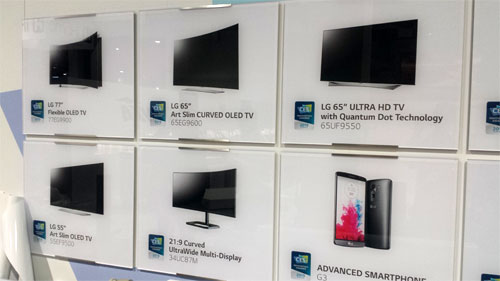 While Netflix's 4K service is already pretty cool, its high dynamic range content is going to be the best yet. HDR offers a wider range of colours, darker blacks and whiter whites than ever before, using the DCI colour space that filmmakers use. Most experts agree that HDR blows away the colour seen on regular TVs, discs and broadcast media. It's safe to say HDR is going to be a very big thing this year, and indeed we've already seen evidence of that at this year's CES show with Samsung's HDR-capable JS9500 series and the newly revealed Ultra HD Blu-ray specifications.
The latest announcement was made by Greg Peters, chief streaming and partnership officer at Netflix, at CES earlier this week. Peters said that LG's next-generation 4K Ultra HD OLED TVs will be the first to enjoy its HDR 4K content, and its latest range will also be among the first to receive an official "Netflix Recommended" certification.
"This year, we're doubling down on that [4K UHD] innovation," said Peters, "We are working together [with LG] to add High Dynamic Range or HDR to further improve the quality of video available to users."
Besides this, Netflix also announced the creation of the aforementioned "Recommended TV" programme, which will see the content provider certify select TVs that meet its criteria to deliver that perfect streaming experience.
Among the things Netflix will look at when it comes to recommending a TV is whether or not the TV turns on instantly, the speed at which the Netflix application launches, and how fast playback can be resumed after pausing. Assuming the next TV you buy comes with a "Netflix Recommended" sticker on it somewhere, it'll be safe to assume you can enjoy a pretty decent streaming experience. As well as LG, we can expect to see a number of Roku, Sony, Sharp and Vizio TVs being Netflix certified as well.
Netflix hasn't said when its 4K HDR service will launch, but we think it's safe to assume it'll roll out around the same time as LG launches its new ultra high-definition (UHD) OLED televisions.