Buoyed by the success of its original productions like House of Cards, Netflix has announced plans to raise the cost of its monthly subscription for new customers by around $1 to $2 per month.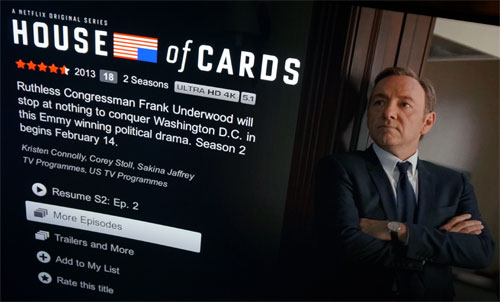 The decision comes as Netflix posted an analyst expectations-busting first quarter earnings call this week, announcing almost 2.25 million new subscribers as well as earnings of $53 million – way more than the $2.7 million profits it recorded in Q1 of 2013. Following this announcement, its share price soared by more than six percent.
But this success has only made Netflix even hungrier as it eyes a starring role for itself in the new era of 4K Ultra HD TV. As regular HDTVTest readers will know, 4K content of any kind is pretty scarce at the moment, and Netflix is one of the few content providers that's offering any at all. It plans to offer plenty more too, hence the recent deal with Comcast in the USA to gain direct access to its unthrottled network, something which should ensure subscribers enjoy a much smoother 4K experience thanks to guaranteed throughput.
Don't expect a flood of 4K streaming from Netflix anytime soon however, as the company said last January to expect only "modest 4K content availability" for the rest of this year. Nevertheless, Netflix is determined to produce more 4K content at some stage, and that's likely one of the reasons behind its decision to hike prices for new subscribers.
Netflix CEO Reed Hastings hinted at exactly that in an interview with Reuters, saying that with the higher revenues "we will be able to license much more content and deliver it in very high quality video".
What we don't know yet is how much Netflix customers in the UK will be expected to pay. In its quarterly letter, the exact wording was that Netflix is planning "a one or two dollar increase, depending on the country, later this quarter for new members only."
As for older subscribers, well they're the lucky ones. Forbes reports that existing customers will most likely get a reprieve of around one to two years, after which they can expect prices to increase.
By that time, with any luck, Netflix might just have a decent amount of ultra high-definition (UHD) content to make the extra expense worthwhile.
Source: Reuters