We've seen plenty of new televisions and gadgets at CES 2013, but now it's time for some news on the services front. Netflix has just announced plans to upgrade its instant streaming to a "Super HD format" which represents the highest video quality it's offered to date. In addition, the media rental and streaming provider has also launched an experiment with 3D video streams, and, from what we've seen, a 4K streaming service might even be on the way soon.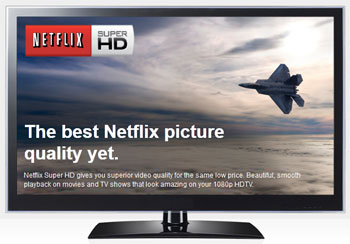 Netflix starts offering Super HD & 3D movies. 4K streaming next?
Super HD essentially means top-tier 1080p full HD content, and will come with some technical requirements. Among these, users will need a broadband connection of at least 5 Mbps, or 7Mbps for the best possible stream quality. The service will work with Netflix apps on dozens of Smart TVs and Blu-ray players, as well as Apple TV, Roku, Windows 8, Nintendo Wii U and the Sony PlayStation 3 (PS3).
Anyone based in the USA will need to hold their breath though, for Netflix said that Super HD will only be available to those customers who are signed up with Google Fiber, Cablevision or another provider that's part of Netflix Open Connect. If you live in America, you can visit Netflix.com to find out if your ISP is part of the Open Connect network. For UK viewers, Netflix Super HD will be available through most major broadband providers, including BT and Virgin Media, while companies including Telus, Telmex, GVT and TDC will be handling global services.
Netflix's 3D video experiment will, for now, be confined solely to viewers in the US. The company said that anyone based in the States who can receive Super HD will also be able to view a small number of experimental 3D movies, including The Art of Flight, Immortals, and a number of titles from 3net Studios. If the trial proves to be a success, Netflix plans to add more titles and make the service available in other countries.
Finally, we caught a glimpse of something at CES that suggests Netflix might be planning a similar experiment with ultra high-definition streaming services soon – the company had teamed up with Samsung to show off 4K streaming on one of the latter's new ultra HD televisions.
According to a Samsung spokesperson at the event, the demonstration was part of a "beta test", but he refused to give any further details at this time. It's not even clear if the video on display was directly connected to Netflix's servers, or if it was a genuine stream over the net. We'll bring you more news on this latest development as soon as we know about it.