Following Google's announcement of its Chromecast HDMI streaming dongle earlier this week priced at just $35, it's difficult to imagine any other similar streaming solution beating its value. But that is just what British Sky Broadcasting (BSkyB) has done: the digital satellite television broadcaster has just launched its NOW TV Box at a stonking price of merely £9.99 including shipping, with the added bonus that the streamed content are tailored to the UK market unlike the Google Chromecast.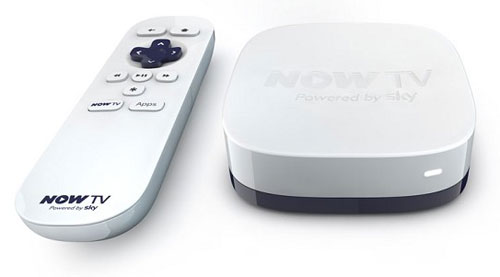 The media streaming box itself seems to be a rebranded Roku LT player – keen followers of the industry will remember BSkyB buying a stake in American digital media receiver company Roku last year, and this NOW TV box probably stemmed from their alliance. The set-top box will feature customised software that carries the NOW TV platform, offering wireless access to popular Smart TV content such as BBC iPlayer, BBC News, Sky News, Demand 5, Spotify, Facebook, and of course NOW TV channels like Sky Movies and Sky Sports on a pay-per-day basis.
While NOW TV is already available on a slew of devices including the Microsoft Xbox, Sony PS3, Roku media streamers, iPad, iPhone, PC, Mac, certain Android-based smartphones, and – as of yesterday – LG's Smart TVs, the NOW TV Box presents a painless way for viewers to transform their HDTV to a Smart TV without too much outlay at all. Setup couldn't be easier: simply use the provided HDMI cable to hook up the device to your television, connect to your home WiFi network, and you can start enjoying catch-up TV and other on-demand services right away.
With a bargain-basement price tag of below 10 quid, the NOW TV Box should prove popular among British households. This media streaming set-top box almost renders LG's exclusive hookup with Sky to incorporate NOW TV on its Smart TV platform irrelevant, since users can gain access to the same content at a fraction of the cost without being tied to LG.
Netflix and LoveFilm apps are however conspicuously missing from NOW TV's library of content – obviously Sky prefers to get users to sign up to its Sky Movies Pass subscription service which is claimed to provide access to the latest movies 12 months before LoveFilm Instant and Netflix. A 30-day free trial of the Sky Movies Pass is available for new customers, with blockbuster titles like The Dark Knight Rises, Skyfall and Argo scheduled to be screened next month.