Japanese telecom firm NTT Docomo has just released a video demonstrating a new video-compression system capable of sending high-definition images at a far more efficient rate than today's most popular formats. HEVC – the High Efficiency Video Encoding Standard, also known as H.265, was recently ratified as the successor to the H.264 system that's become widespread in online video streaming today.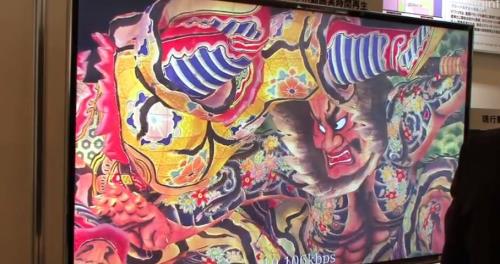 NTT Docomo demos HVEC code, paves the way for 4K video streams
The video, posted on Diginfo.tv, shows that NTT Docomo has already begun testing the new format, which is capable of delivering some highly impressive video streaming configurations. Previously, experts have speculated that the new HEVC would require at least 45-50Mbps download speeds in order to stream 4K content, due to the fact that most video codecs used today can stream 1080P at the highest quality settings at around 20-25Mbps. Naturally, many thought that streaming through HEVC would be even more demanding, but NTT Docomo's latest video shows that this is not the case.
"This is codec software developed by Docomo. It uses a PC to play video four times the size of Full HD at 60 fps in real time. We think 60 fps video with a 4K display size like this is a world first. The data volume is about 10 Mbps, so as long as the environment's in place, in the future, we think using HEVC will enable video this good to be sent over the mobile network."
HVEC was approved by the ITU as the new standard for 4K streaming last month, and since that time various organisations have touted the format as the HD video playback's future. Proponents of HEVC argue that H.265 can carry twice as much data as H.264 whilst producing an image quality that's at least equal the equal the latter, if not better. NTT Docomo says that it's ready to begin licensing its HEVC codec for smartphones as early as next month, something which would see its customers given access to much faster playback and noticeable improvements in image quality.
But the much wider ramifications go much further than this. HEVCclearly has the potential to deliver native 4K content directly to people's TVs and tablets. That NTT Docomo has proven it's possible to do so with 10Mbps speeds means that streaming 4K content isn't beyond the realms of possibility. 4K streaming can be transmitted via IPTV, or even via regular cable if the provider possesses the necessary architecture.
NTT Docomo's demonstration is a big deal and will hopefully lead to more content providers laying the groundwork for HVEC streaming. HVEC is capable of delivering much-needed 4K content into people's homes at low bitrates without sacrificing on image quality, finally removing one of the biggest barriers to adoption of 4K, aside from the actual prices!
Source: Diginfo.tv