It's all very well being an early adopter of new technologies, but it does have a few downsides. For example, if you've just shelled out £8,700 on one of Samsung's fabulous, shiny new OLED TV, you'd probably be pretty pissed to find out that just 24 hours later, the company's gone and shaved off a whopping 33% off of the price you just paid!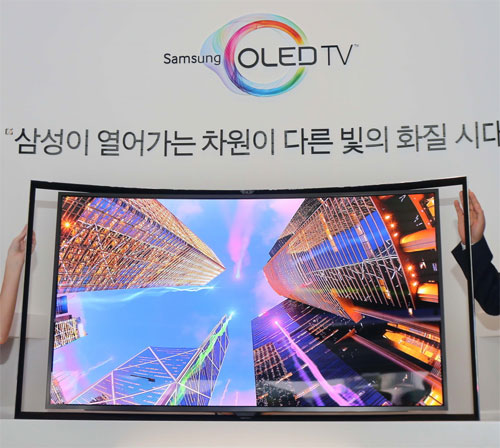 The Korea Times reports that the price of Samsung's 55-inch curved OLED TV has dropped from its original 15 million won asking price to just 9.9 million won (about £5,700) as of today.
No doubt anyone who rushed out to buy one yesterday is going to be a bit upset, but unfortunately it seems that that's just the price you have to pay in order to get your hands on the very latest in home viewing display technology as soon as it becomes available. Nevertheless, the fact of the matter is that the OLED television business is a high-stakes game, and it's one that Samsung wants to win at all costs.
Samsung is of course going toe-to-toe with cross-town arch rival LG Electronics as it vies to tempt consumers with its high-end TVs, and so the initial reaction is that this move will be the start of a price war between the two companies. Samsung admitted that its "aggressive pricing" policy was partly aimed at making its hardware more appealing and taking the lead in the OLED TV market, but it also claimed that the price cut was also due to increased manufacturing yields with its curved OLED panels, which has allowed it to offer its newest HDTVs at vastly reduced prices.
What with Samsung dropping the price of its OLED TVs by so much, one would imagine that LG would respond in kind, but surprisingly the 'other' Korean giant has opted for a different tactic, instead launching lower-priced models of its 55-inch and 65-inch 4K TVs with less features. According to tech website Engadget, LG's 55in LA9650 will cost just 5.9 million won (around £3,100), while the asking price for the larger 65in model is 8.9 million won (approximately £5,160). Both the LG 55LA9650 and 65LA9650 ultra HD 4K televisions will not come with motorised 4.1 speaker bar at the bottom or integrated camera compared to the 55LA9700 and 65LA9700 which are priced at 7.4 million won (£4,290) and 10.9 million won (£6,300) respectively.
So far, these price drops appear to be limited to South Korea only, which is hardly surprising as Samsung and LG's newest TVs have only just gone on sale – or are just about to be released – in European and North American markets.
Sources: Korea Times & Engadget